Thomas Drago is the author of Crow Creek, a strange and wonderful tale about a sinkhole and the town around it.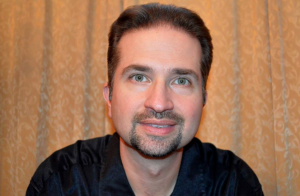 Tell us something about your book. The basics: what's it about?
Crow Creek takes place in a fictional Southern town.  The local Sheriff is investigating a recent suicide and finds himself in conflict with a prominent pastor.  The book is really about dealing with the loss of a child and about how people question their faith after tragedy strikes.  Sometimes, you can't trust those you think you can because they aren't as they seem.
How did you come to self-publish? Did you try to get published traditionally?
After years of submitting my work to literary agents and traditional publishing houses, I grew tired of accumulating rejection slips and seeing my work sit on the shelf in my office.  The market is highly selective and targets specific genres and demographics.  Horror isn't mainstream.  I knew from the very beginning that I wanted to self-publish Crow Creek.  I didn't even consider submitting to a traditional house.
What self-publishing service did you use? Happy with the service?
I used CreateSpace.  They're an Amazon company.  I loved working with them.  They're user friendly and very supportive.  They don't make you pay for anything you don't need.
What avenues have you taken to market the book? Have you gotten reviews, interviews, TV, print media coverage?
I wrote a blog on Google in the months leading up to the publication date.  Since then, I've advertised primarily on my Facebook page.  I've also run some ads on Goodreads and participated in the Amazon Tweet Exchange on Twitter.  I submitted to Kirkus Reviews as well.  They gave me an outstanding write-up, by the way.  I posted a book trailer and a promo spot on YouTube.  The local newspaper featured my book, and I also interviewed on a local radio station.  I'm trying to set up a book signing in the area.  It all keeps me busy.  This is the most challenging part of the process.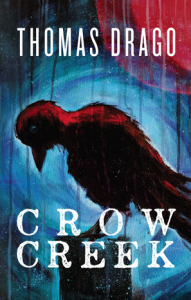 What drove you to write this particular book?
I created the town of Crow Creek in an unpublished novel that I wrote with my wife when we first moved to the South just before 9/11.  Since then, the places and characters have appeared in a lot of my stories.  Last fall, I had a vision of a sinkhole swallowing a mom as she's rushing her little girl to school one morning and quickly drafted the first chapter.  Everything fell into place after that.  I wanted to explore the relationships of people who deal with tragedy and address my mistrust of Christianity and organized religion.  I think we all need faith, but the Church's message seems so far away from what Jesus intended.  I watched an episode of The Big Bang Theory recently.  Sheldon tells his mom, "I'll condemn you internally while maintaining an outward appearance of acceptance."  That sums up the problem I have, I guess.  At least one of them.
Is the book in any one particular genre? Is it a genre that's familiar to you?
I've written horror stories for as long as I can remember.  Crow Creek definitely fits that mold.  It's a supernatural thriller.  Dark Fantasy.  Whatever you call it, it's what I love.
Who are your greatest writing influences?
Anyone who writes horror is indebted to Stephen King.  If they disagree, they're only lying to themselves.  He paved the way.  He's the greatest.  He's the Elvis of horror.  When I write, I always ask myself, "What would Stephen King do?"  I exchanged letters with him when I started out more than 30 years ago and remember everything he ever told me.  I love the guy.  After reading his work for so long, I feel like he's my best friend.  Mr. Mercedes is sitting on the shelf above me as I write this.  Can't wait to sink my teeth into it.
What's your writing regimen? Any tips for keeping focused?
I write a thousand words a day.  Usually, I put in a half-hour in the morning, a half-hour in the afternoon, and then a half-hour before bed.  That gives me enough time to crank out a draft, revise, polish, and move on.  You have to write something you're passionate about.  Otherwise, you'll just hit a dead end.
Would you self-publish again?  Absolutely.  I'm currently writing the follow-up to Crow Creek.  It's called Queensboro.  It picks up where the first novel left off and adds a few characters and a brand new horror.  I plan to submit through the traditional channels at first, but I'll definitely self-publish again once I stop the pursuit.  I'm getting too old to waste my time.
Any final words of advice for those looking to self-publish?
Do it.  The literary world is changing.  The corporate houses have less and less control over what reaches an audience nowadays.  But be patient.  Don't pick a company that requires you to pay for more than what you need.  I only wanted help with format and design.  That's what I got.  I let my writing speak for itself.