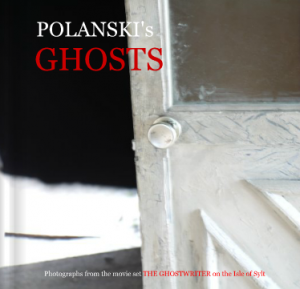 In March 2009 Roman Polanski shot "THE GHOSTWRITER" on the Isle of Sylt. The photographs in this book show the Listland Movie Set, left behind when the job was done – one still can sense the presence of Pierce Brosnan, Ewan McGregor and Eli Wallach.
During the shooting of this film, Polanski was again called to trial in the US for a crime he committed years before – that of the rape of an underage girl. That will surely pique interest for this book, and its title.
The photos are a fascinating look at this abandoned film set, and a kind of memoir of the photographer, Burkhard von Harder, a lifelong Polanski fan of his visit there.
The photos can be grim and cold, but often a charming element appears: a bird in flight, a pink spray of paint on the ground denotes an actor's "mark".  For more information check out the links below.