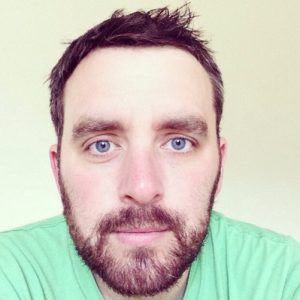 Tell us something about your book. The basics: what's it about?
The book is about a young man named Jason Chapman, who is 23 and has just been invited to the wedding of the girl who got away, and whom he has never been able to replace as the girl of his dreams. It's held him back in all aspects of his life, and when he gets the invite, it sends his whole life into a downward spiral. But with the help of his best friends, Jason starts to reconnect with himself and get his act together, just in time to face the love of his life one last time.
How did you come to self-publish? Did you try to get published traditionally?
I've been writing about self-publishing for a website called Million Pens for about a year, and to be honest, I've always been a screenwriter. It wasn't until I started researching for articles that I discovered what a great opportunity it is for writers and authors who want control over their literary careers. I was fascinated, and I decided to adapt the screenplay for WALKING UP A SLIDE into a novel, and self-publish it as an experiment. It's an experiment I have thoroughly enjoyed, and I'm definitely going to do it again.
I haven't tried the traditional publishing route, but I did spend almost ten years pitching the screenplay for WALKING UP A SLIDE to agents, filmmakers, producers and financiers. I write very fast, so self-publishing has been a godsend for me. Write it, edit it, get feedback, rewrite it four million times, get more feedback, get a book cover, get it out there! That's been my process, and I've loved every second.
What self-publishing service did you use? Happy with the service?
I'm very fortunate in that I studied Creative Writing at university, where I had plenty of proofreaders and editors at my disposal. My friend Lex is the most brutal editor I've ever met. She could turn 'War and Peace' into a 500 word short story! But jokes aside, my first port of call was my friend, and then I used the Editorial Review and Proofreading services of Self-Publishing Review. Without any bias whatsoever, I can tell you that Cate and the team here have been amazing, and I'd recommend it to anyone.
On the publishing front, I used Book Baby to distribute the novel. It's now on Amazon, Kobo, iTunes, Barnes & Noble and a host of other platforms I've never heard of, and CreateSpace are currently putting the print version together, which I'm extremely excited about. When I hold the paperback version in my hand I'm either going to cry or dance… Or maybe both.
What avenues have you taken to market the book? Have you gotten reviews, interviews, TV, print media coverage?
I'm currently using a few different services to get social media coverage of my book, as I'm well aware of how annoying it can get if someone is spamming you constantly about your book. Also, I've put the word out on my website, on GoodReads and on Twitter and Facebook that I'm more than willing to send a PDF version to anyone who fancies giving the novel a read and popping a review up on Amazon or GoodReads. I've had a few takers, so I'm looking forward to reading their feedback online. Fingers crossed for some 5 star reviews!
I've sent a press release out to a few local newspapers, websites and radio stations, so we'll see what happens there. Hopefully I'll get a bit of coverage in the local media. That'll be nice. I'm going to keep an eye on any book stall opportunities too. If I can print a few copies via print-on-demand services and sell books in person, I'd really like that. I'm a sociable creature, and I can give people sad eyes as they walk past, which I can't do on Amazon.
What drove you to write this particular book?
I wrote the screenplay in 2006 whilst travelling around Australia with my wife, and the story has just stuck with me ever since. The light-blub moment was writing articles about self-publishing though. That's when I thought: Why am I trying to pitch this as a film? Let's see if there's a novel here. As soon as I started writing it, I knew I'd made the right decision. I wish I'd had the idea in 2006, but hey-ho, it's here now!
Is the book in any one particular genre? Is it a genre that's familiar to you?
I've always loved romantic comedies, in film and in literature, and I think WALKING UP A SLIDE fits nicely in that niche. The screenplay definitely had a (500) DAYS OF SUMMER and KNOCKED UP vibe, and I've been told by people that the book reminded them of SPACED, the sitcom by Edgar Wright and Simon Pegg.
Rom-coms often get sneered at, but when they're done well, and the dialogue and characterisation are done well, you can create something glorious. It's only in the last 20 years or so that they've become a little generic. My book looks at heartache from a male perspective, which is one you don't see very often in this genre.
Who are your greatest writing influences?
Judd Apatow, Shane Black and Martin McDonagh are my favourite screenwriters, and I definitely have that potty-mouthed, honest, chatty style that they incorporate in their film and theatre work. From a literary standpoint, I love the way Nick Hornby writes, and Mark Haddon is incredible. The first time I read 'The Curious Incident…' it just blew my mind. Also, you can't to wrong with a little Roald Dahl.
What's your writing regimen? Any tips for keeping focused?
I don't force anything. I plan everything to the nth degree, including outlining, writing character bios and jotting down quotes in my iPhone when I'm walking down the street. By the time it comes to writing, I'm bursting with ideas and I can't go one more day without letting the story spill out. That energy and eagerness lasts me until I have a complete first draft – what I like to call 'The Kitchen Sink Draft' – before I go back and chip away at what I've created.
I've heard a lot of advice from people saying stuff like "shut off social media" or "work in silence", but really, there is no universal way to get your work done. I like to listen to music and podcasts while I write, and if I had the TV on in the background it would make no difference. To some people, that will sound insane, but you shouldn't change the way you work if what you're doing works for you.
Would you self-publish again?
Absolutely. 100%.
Any final words of advice for those looking to self-publish?
This is not the easy option, so don't treat it that way. You need to pay out for a variety of services: Editors, proofreaders, book cover designers, marketers, reviewers and more. You might never turn a profit from your work, and it might only sell 100 copies, but if you put your heart and soul into the writing, then use all of the expert advice and professional services around to make your novel the best it can be, who knows what might happen?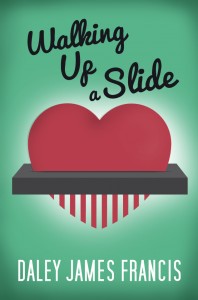 Get a copy of Daley's novel WALKING UP A SLIDE from Amazon, iTunes or Barnes & Noble.