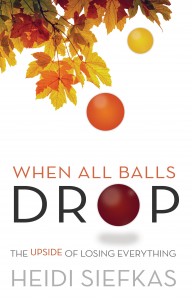 How can a devastating accident end up leaving you in a better place in life?
This is the key question author Heidi Siefkas tries to answer from her personal perspective through her inspirational memoir When All Balls Drop: The Upside of Losing Everything.
A candid recollection of events arranged from memories and diaries, Siefkas writes about her experiences of physical and emotional recovery from a freak accident as victim of a falling tree that left her without a career, without a marriage and without a life to her own. With only a fight for her lost independence left, Siefkas begins a long, ultimately uplifting journey of recovery of physical and emotional dimensions as she takes a new look at the pieces of her shattered life.
Now a travel blogger and inspirational writer, Siefkas has shared her story in hopes of her story affecting other women in a positive way – finding the inner truths to life's ins and outs and being always aware of the hazards and the opportunities in life that aren't always separate events. With blog-like entries of the many keystone events along her recovery in each chapter we follow her powerful story in a realistic series narrated with Siefkas's realizations in hindsight.
Each chapter is as important as the next in putting the messages of the book together and provides readers with the ability to take away so much more as a second-hand experience than as stand-alone lessons. An ICU visit and a gynecologist visit both have their importance as much as a divorce and a bachelorette party psychic reading in Arizona.
To be sure, there's a spattering of good humor to be found in everything here as a lighter side to what could have been so much less fortunate, like the "dog" bought by Siefkas's mother at the questionable advice of a doctor or the unplanned confessional to a surprisingly sympathetic postwoman.
In that way, the overall message of the book is that everything has an upside – but it might not always be clear what that is. While a major accident isn't itself a pleasant or positive thing to have happen, the ripples of this particular one were significant for the author who shows courage and determination in her fearless upheaval of her life and every speed bump on the way there.
When All Balls Drop is a hopeful story for women who want to see the bright side of their own misfortunes written by a spirited and tenacious author.
Siefkas tells us constantly to "look up" and appreciate the wholeness of everything in life to see what you can do with your life. A change doesn't have to come from a major event, but in case it does, there is an upside to losing anything, let alone everything! Between a bouncy yet strong writing style and an excellent cover and overall presentation, I would recommend When All Balls Drop for anyone who feels a kinship to a story that may enable a search for a way forward on their fateful life path.
Links
Author Site
Amazon