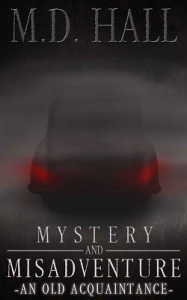 Mystery and Misadventure – An Old Acquaintance by M.D. Hall – a sequel to Mystery and Misadventure, though largely independent – is a collection of fictional short stories where things are not quite as they seem. Each short tale focuses on characters who find themselves crossing from the world we know into their own unusual circumstances ranging from the strangely uneasy to the horrifically bizarre. The thirteen stories are told to us by the mysterious and eccentric 'S.P.', a figure whose conversations are logged in the book alongside each individual tale, providing a commentary and a puzzling context for what may be prompting their telling.
Channeling old shows like The Twilight Zone and Tales of the Unexpected it has a distinct pulp feel to it, complete with a somewhat old-fashioned sensibility to its stories, focusing on quaint, rather timeless characters such as the horologist Robert or the prize-winning gardener Bill Cardew. It reflects the mid-Twentieth Century era its inspiration emerged from with a charming eye for detail without lodging itself too firmly into dated ideas, making it a fine hit of nostalgia to readers who might have grown up with these kinds of shows. If you felt as if killer plants, cursed Egyptian artifacts and strange dimensions out of time were sorely lacking in the current market, your niche has just been filled. If it weren't being presented on a Kindle screen you could swear it had come straight from a dusty shelf in a book store, waiting to spring its terrible truths to an unlucky reader.
Nostalgia aside, the stories are very well written, keeping an eye for detail without becoming nasty or overcooked. There's a muted joy and an unplaceable severity to the grim yet unapologetically silly nature of the stories, and walks the tightrope of the two emotions exceedingly well, all through the lens of the quietly unsettling narrator. It taps into an older-style horror of mystery over outright shock, leaving questions that haunt far more than the bloodspatters and curses that abound. The story of 'S.P.', as a few others, are fairly predictable in their general premise, but the telling of the tale always reveals a turn to throw you off and makes a very enjoyable read no matter how good your guess might have been, and can leave a real chill in its wake if you let yourself sink in, despite all rationality. It's a fun collection of obscure ideas put together in a very interesting way, handing pieces of each puzzle to the reader to realize uses that might not be immediately apparent, especially with a detached meta-plot of the unusually-informed 'S.P.' and the increasingly-concerned company of our author.
Safe and short, but a complete joy nonetheless, Mystery and Misadventure – An Old Acquaintance is a wonderful little horror compendium that you just wish could be seen on an old 80s television after dark. The book gives what it wants to give, when it wants to give it, and does so with a tight composure that makes for a very balanced and easily-consumed read, yet leaves a deliberate want for more and the incentive to wait. Well-conceived and thoughtfully delivered, it's an imaginative and exciting piece that just gets curiouser and curiouser.