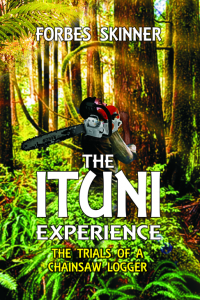 Have you ever met someone who has almost accidentally cut off his leg with a chainsaw, set himself on fire trying to light a cigarette, who was thrown from a tractor, and lived to tell about it? Meet Forbes Skinner, author of The Ituni Experience: The Trials of a Chainsaw Logger. In his memoir, Skinner comes across as a very determined, stubborn, intelligent, naïve, and unlucky man. Many readers may be unfamiliar with Skinner's country, Guyana, and about chainsaw loggers. They won't be for long. One of the most fascinating aspects of The Ituni Experience is the inside look into the South American country.
This memoir focuses on the author's experiences trying to make it rich in the logging industry. When Skinner decides to jump wholeheartedly into the logging industry he's in a bit of financial trouble. He owns his own cab, making a decent living, and providing for his family. However, he's worried about his future in the cab business and his investment into a restaurant turned out to be a bad decision. When he runs into one of his former students and sees the look of disappointment that he no longer teaches, but drives a cab, sends Skinner into a tailspin. One of the overriding themes in this memoir is the author's pride. Skinner's encounter with the student is a turning point in his life and it can be argued either way if it was good or bad.
It would be too difficult to summarize all of the hardships the author endured during his logging adventure. Many readers won't believe a reviewer, but they should pick up a copy and read for themselves. It's filled with adventure, mishaps, near-death experiences, corruption in business and in the government, interesting characters, greed, pride, and so much more.
In his preface Skinner notes that he never kept a diary during this time. This is amazing considering all of the details the author provides about his five years in the logging business. At times the author gets caught up too much in details. It's important to share enough since most readers aren't familiar with the logging industry in Guyana, but there are pages when the author goes on and on about all the different cuts made by the chainsaw operators. Most adults have a job or have had a job and while many of us may think our jobs are exciting, when it comes down to it, it's a job.
Luckily for Skinner, his job entailed a lot of physical danger and corruption to keep the reader engaged. There's always a sense of foreboding. What crazy mishap will the author experience next? Sometimes what does happen next is shocking. This feeling of dread never ends until the end of his experience.
While the author paid close attention to details concerning his experiences, it should be noted there are a few editing errors. The author writes hay day instead of heyday on many occasions, quite instead of quiet, and switches tense regularly. While none of these errors are detrimental, it would behoove the author to proofread it again before releasing. It would be a shame to let these tiny issues detract from a memorable memoir that will have readers laughing and on the edge of their seats. It's admirable how honest the author is throughout his book. He's not shy to admit he was clueless and this cluelessness makes the story. Ever hear the phrase, "Truth is stranger than fiction." Skinner's story is the perfect example. It's amazing the man survived all of the mishaps that befell him. And it's wonderful that he decided to share. The Ituni Experience is an original memoir that will stick with readers.  
The Ituni Experience is available from Lulu.com