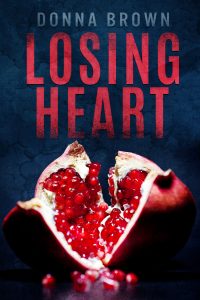 Tell us something about your book. The basics: what's it about?
Losing Heart is about a woman – Helen – with a serious, life-threatening heart condition who is lucky enough to receive a donor heart just as she feels time is about to run out. Grateful for her new lease of life, Helen feels compelled to reach out to the donor's mother, Marian. Sadly, Marian is unable to let go of her daughter and becomes obsessive in her judgement of Helen, with tragic consequences for all involved.
How did you come to self-publish? Did you try to get published traditionally?
I had previously self-published a trio of short stories I wrote, Double-take Tales, and been very happy with the feedback. With the length of Losing Heart, I wasn't sure a publisher would consider it a sound commercial venture but the story felt right to me, so I wanted to share it and see what readers thought. Self-publishing seemed the best route in this case.
What self-publishing service did you use? Happy with the service?
I didn't use a particular service but a range of contacts and tools. For example, I formatted the book via PressBooks' system, which is very user friendly and very reasonable. Cover design was by Christa Holland at Paper and Sage and she did a fantastic job. She's worked on other covers since and I really can't praise her work enough.
What avenues have you taken to market the book? Have you gotten reviews, interviews, TV, print media coverage?
Like most self-published authors, I'm limited in both time and money but I've been pretty bowled over by how many bloggers are offering blog tour and blog blitz services at amazingly reasonable prices. The book is listed on Netgalley and Book Review Buzz and I've had very positive reviews from Self Publishing Review and Readers' Favorites. I know it will take some time but I try and devote some time every day to marketing the book and my upcoming releases (The Bleaklisted Books, December and Playing House, January). However, my biggest focus is to keep writing so if people do like the book, I can be sure to offer them more work.
What drove you to write this particular book?
I had been thinking about it for a while, playing with an idea, which in reality didn't really resemble the finished book at all! I love the film The Hand That Rocks the Cradle and wondered what would happen if a grief-stricken mother became obsessive over her child's heart. The idea that the one living piece of her child needed to be guarded fiercely and protected from the new 'owner' built into the story that finally became Losing Heart.
Is the book in any one particular genre? Is it a genre that's familiar to you?
Initially, I didn't term it a thriller but other people did. They called it creepy and suspenseful, termed it a thriller. Perhaps I was too close to the story by that point to appreciate the chill factor. As I realised it did seem to unnerve people, I began to classify it as a psychological thriller. Yes, there's physical drama and confrontation, but a lot of the suspense is in the slow build of anticipation of how far the characters might go to protect what – or who – they care about.
Who are your greatest writing influences?
Roald Dahl always has to get a mention. As a child, I was dazzled by his children's books, but as an adult his mastery of the short story has always held me in awe. Such beautifully woven tales, expressed in so few words. He was a master storyteller.
I'm also very inspired by Terry Pratchett. Although I don't write fantasy or comedy, his tenacity and dedication to the Discworld series is incredible. The range of characters he writes and how much you come to care about them put him in one of the top spots in my favourite authors list.
What's your writing regimen? Any tips for keeping focused?
After a considerable dry spell, I wrote Losing Heart and have tried not to stop writing since, even while Losing Heart was being revised and edited. I'm taking part in NaNoWriMo this year and while I'm not sure I'll hit 50k (but here's hoping!) it's been an excellent exercise in getting used to putting pen to paper every day. I prefer to have a walk, then stop for a coffee and write for an hour or two, then walk back home and begin the work and the chores, but at the moment I'll grab writing time wherever I can, even if it's sitting up in bed for twenty minutes before lights out.
Would you self-publish again?
Definitely, but that's not to say I would only choose self-publishing and never pursue a traditional route. Right now, it really works for me but there are huge benefits to traditional publishing too, for the right book. My approach would be to never say never to either avenue.
Any final words of advice for those looking to self-publish?
My advice would be to have realistic expectations about what you can achieve. On the plus side, it offers you an opportunity to keep control over your work and really write what you believe is a good story, even if it might not be conventional bestseller material. On the negative side, it takes a lot of time and effort, time that you might really wish you could spend writing instead. Those huge success stories are great but even if you get there, you're going to need to put in a lot of late nights and candle-burning in the meantime. All that being said, just knowing your book is out there and in the hands of readers is amazingly rewarding in itself.