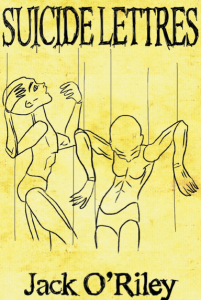 Suicide Lettres, a book of twenty short stories is the brilliant and dark debut by Fargo-based writer Jack O'Riley. Starting with an unbelievably imaginative and original tale, this is the showcase of a talented writer.
These stories are so unusual that they take the reader into a world of lives twisted and broken by their own doing, spirals that fall out of control with unfolding events.
The opener is stunning and abstract, with a freshly-skinned animal pelt doing the talking; the following tales don't get easier, but it is this grand uneasiness that takes the reader back to a time when being a literary writer mattered, and proper stories and complicated character studies are crafted with thought. The slice of each will throw you into an ordeal, given none of the stories give any truly happy resolutions. Instead, they remain purgatory-like, hanging on a thread; the punch is delivered but not the ending or explanation. It is for the reader to exhume the full meaning.
There are a few typos and spelling errors, and these should be corrected immediately by the author to make sure the quality of the writing doesn't suffer from these, but it isn't a terrible distraction because the book is basically too good. I am divided about the book cover: does it help or hinder the content? I am not sure. Maybe something more modern and colorful would help sales, but this vintage cover is sort of nice and fitting too. Given the market was different when the paperback came out four years back it's probably time for an update.
O'Riley writes visual, rolling prose, sometimes reminding of Wurlitzer's Nog or Salinger's Nine Stories, with a nod to such modern writers as Self or Palahniuk. My favorite is a longer story about a loner who for some reason decides to go audition for the role of Anton in "No Country For Old Men" in Hollywood, to presumably meet the Coen Brothers, and gets himself into all kinds of trouble. We don't get to find out exactly why he goes this far, but the snarky one-liner ending is to die for. Like the movie, the details go unexplained.
Expect appearances from The Devil himself, quite a bit of gore, and yes, suicide, delivered with lots of tongue-in-cheek humor that fans of pulp horror and modern American loner fiction will adore.
This is the kind of book that maybe ten years ago would have been pounced upon by a certain sort of literary press, or maybe a small, beautifully crafted review magazine. These days, it's a crying shame to say short stories are overlooked. However, I look forward to O'Riley's forthcoming novel with some genuine excitement, and anyone who wants to get on top of the fresh, true talent in self-publishing today should grab this book now to see exactly what a great, original story looks like, because there's not much of that around.
Links
Amazon
Smashwords
Bookmasters