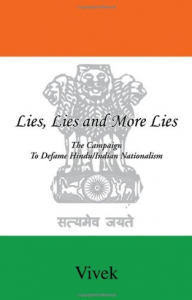 In Lies, Lies and More Lies, author Vivek sets out to prove that Hindutva is an ideology that doesn't equate to Hindu fundamentalism. He states in the preface that he is frequently asked: "Does a billion-strong community really need protection?" He says yes they do, and his essays demonstrate why the author believes Hindus need protection, and how Hindutva "remains the sole bulwark against the spreading Islamic fundamentalism in South Asia." Furthermore, according to the author, the English-language media has an agenda to vilify Hindutva.
This work, which is the second edition, consists of essays published by Vivek addressing the issues mentioned above. The title Lies, Lies and More Lies: The Campaign to Defame Hindu/Indian Nationalism sets the tone for the work. The author's purpose is to highlight these lies and he does not shy away stating his beliefs emphatically. He's informative, passionate, and confrontational.
Each essay is well written and all of them are revealing. Vivek relies heavily on statistics and quotes in support of his ideas. For those unfamiliar with the issues, this work introduces the complexity of the problems. At times the information can be overwhelming, but given the subject matter, the author takes great pains to be as succinct as possible. Many of the issues are centuries in the making and they involve millions of people over the years.
Any work tackling thorny subjects such as history, politics, and nationalism has to tread a fine line. Facts need to back up opinions, and the author should be as unbiased as possible. Otherwise the work is in danger of being labeled propaganda. His insights, research, and passion are impressive.
This work raises questions, provides some answers, and hopefully leads people to look further into the history of India and its people. The problems won't be solved with one book, but Vivek's work will hopefully foster dialogue, resulting in a better understanding of the issues involved.