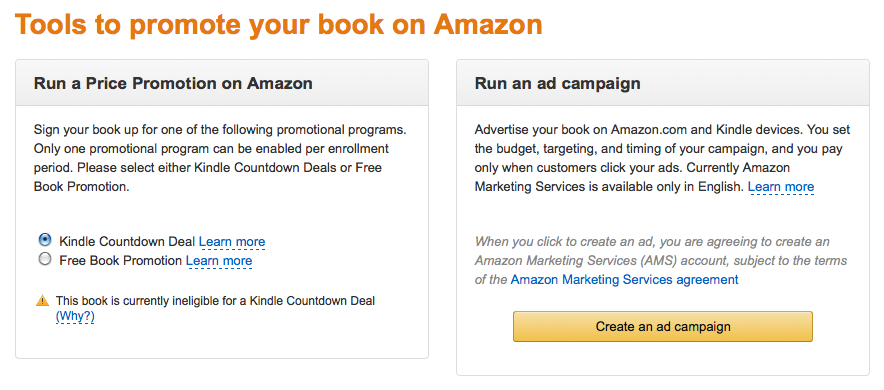 Amazon has sweetened the KDP Select pot by allowing for pay-per-click advertising on titles. From KDP:
Advertising for KDP Select

With advertising for KDP Select, you can use Amazon Marketing Services (AMS) to purchase advertising to promote your KDP-Select-enrolled books on Amazon.com. To get started, you can create an Amazon Marketing Services account directly on the KDP website. You set the budget you want to spend and the maximum amount you are willing to pay when a customer clicks your ad. Customers who click your ad will go to your book's product detail page. You'll only be charged when your ad is clicked if your ad is displayed, but if it is not clicked, you are not charged.

How It Works
First, choose the book you want to promote, and specify how you want your ad to be targeted. Then decide how much you're willing to spend promoting it. You'll also need to set a start and end date for when you want the ad to be delivered.

Targeting
You can choose to have your ad delivered to customers who previously browsed the Kindle Store for a particular genre, or to customers interested in specific products on Amazon.

Bidding and Budget
Your book's ads automatically compete in an online auction. You'll choose your maximum cost-per-click (CPC) bid when you schedule your ad. Your CPC bid is the maximum amount you will be charged when a customer clicks your ad. To advertise, you must place a minimum CPC bid of $0.02 and set a minimum campaign budget of $100.00.

Your actual cost-per-click is determined in an auction that takes place with other eligible ads. You will be charged $0.01 more than the second-highest bid in the auction for a click, up to your maximum CPC bid.

Paying for Ads
You pay only when customers click your ad. If they see it but don't click, you are not charged. You'll enter or select a major debit or credit card in your Amazon.com or Amazon Marketing Services account (not your KDP account), and you'll be charged periodically in small increments as your campaign goes on.
This is a new program, so no news yet on its feasibility, but this will potentially make KDP Select exclusivity more attractive to more authors.