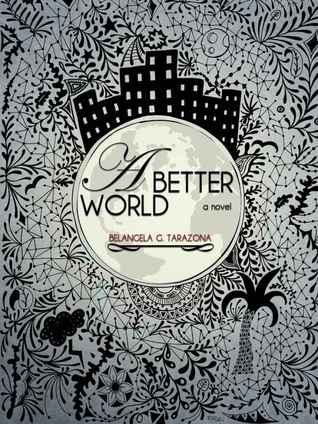 A Better World, by Belangela G. Tarazona, is a difficult, but uplifting, read about three women who have to endure harsh realities.
This is a collection of three novellas. In the first, Saja, flees from Sri Lanka, which is in the midst of a civil war. Most of her family and her husband are lost, leaving her alone when she seeks asylum in Denmark.
The second story focuses on Yonna, a Venezuelan. Her entire family has been murdered by a rival clan and she is captured and raped repeatedly, until the rapists grow tired of her and toss her abused body to the side.
The final novella is about Taraji a South African orphan born out of rape. She is adopted by a loving Danish couple.  In her teen years, she starts to question who she is and where she came from.
While all three novellas start in different parts of the world, each one ends up in Denmark. This isn't the only connection. Each story focuses on the brutality of life, war, and in particular, violence against women. All three of them are victims, yet they are strong, and are determined not to let their past bog them down. Their stories are testament that it's not just a person's past that defines them, but how a person reacts and adapts to horrific situations. Even when faced with difficulties, a person still has the ability to choose and to alter their fate, for better or worse. While reading about their lives is difficult, due to the violence, the author still offers hope. Belief that individuals, no matter the odds, can be triumphant.
The first story is the strongest. Saja is a brave and determined woman who is easy to cheer for. And her plight as an asylum seeker will open many eyes. Yonna's story is the hardest to read, but many will admire her courage to survive. Taraji's story doesn't seem to fit in the collection entirely. Both Saja and Yonna have endured tragedies that most wouldn't overcome. Taraji is a child conceived during a violent rape, and that is tragic, but for most of her life, she has been protected by her loving adoptive parents. The inclusion of her story off-sets the feel of the collection.
All of the main characters end up in the same country, but their lives never intersect, even though there is a feeling that they will at some point. This is a bit of a letdown. Only a minor one.
The author does a wonderful job of setting each scene and it's admirable that she's able to bring to life several different places that most readers have never been. Her descriptions and inclusion of local words, foods, drinks, and smells transports the reader to faraway places all the while pulling them into the lives of the characters. Everything seems so real and vivid. And this keeps the reader engaged.
This is the type of book for readers who enjoy stories about individuals overcoming great odds.
Links
Amazon
Goodreads
Author Site
[divider]