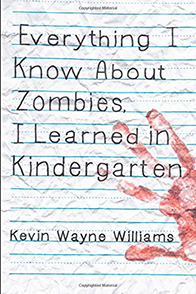 Everything I Know About Zombies, I Learned in Kindergarten by Kevin Wayne Williams follows 9-year-old Leticia leading a terrified band of elementary school students through the perils of a zombie apocalypse. As the promo materials make clear: this is emphatically not a book for 9-year-olds. However, for adults, and perhaps young adult readers, it is a stellar addition to the zombie genre, at once page-turning and lyrical.
Without scaring off genre readers, Everything I Know could be classified as a literary novel. Williams is an expert with dialect and the inner city setting. Leticia is a fully-realized protagonist, both mature and vulnerable. Yet she's not impossibly mature. She really does seem like a nine-year-old, albeit a more street smart nine-year-old who's already had children in her care.
This is where the novel starts to transcend other zombie fiction. We all know the tropes of zombie lore and how apocalyptic scenarios can reveal people's humanity, or inhumanity. But kids 9 and under just don't process danger in the same way as an adult, so their methods for dealing with it are much different (such as bedtime stories). Williams' portrayal of kids in this situation could have veered towards sentimentality, but it doesn't because their reactions seem entirely realistic. So Williams' apocalypse is both more harrowing, and more human.
That all sounds very serious, but what is fun about Everything I Know is that there is plenty here to satisfy genre lovers, which is a testament to how well it straddles the line between gory genre and literature. This is, after all, a zombie novel, so there's a horrific body count. It's just portrayed through a unique and inventive lens. There's way more here than just another apocalypse scenario.
It's an enormously sensitive subject to take on as well. Williams had to be extraordinarily deft to put so much violence in a schoolyard setting. Post-Newtown, subjecting kids of this age to terrible violence does not bring up the greatest memories, and in lesser hands might have seemed exploitative. Everything I Know is not just a case of making them kids because kids are more scared and vulnerable, it's a story about how kids might react to a situation like this. It's a topic that's been virtually ignored in apocalyptic fiction. Cormac McCarthy's The Road comes to mind, but the boy in that isn't entirely on his own. You could say it's similar to Lord of the Flies as well, but Williams' kids get along.
It's tough in this day and age to do anything original with zombies, and Williams certainly succeeds, crafting a literary zombie novel with more than enough traditional zombie gore to keep zombie aficionados entertained. One quibble for me is the title. It's eye-grabbing for sure, but it's a shade more cute than the book itself. The novel is anything but cute: it's a grim piece of zombie realism. Which isn't to say it's humorless, but it is horrific. Put together, Everything I Know About Zombies is not just one of the better books about the zombie apocalypse, but a better book about the apocalypse in general.
Links
Amazon
Goodreads
Author Site