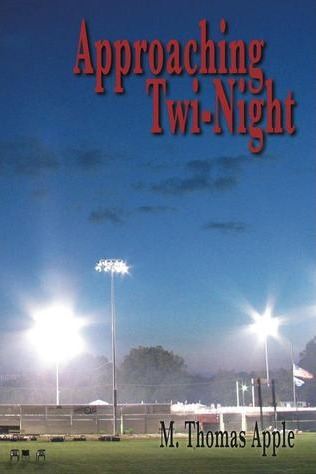 Approaching Twi-Night by M. Thomas Apple is an eloquent and tender novel about the minor league baseball pitcher, John "Ditch" Klein, and his on-again off-again relationship with the sport of baseball. He's got a critical manager, critical family members, and his heart's not entirely into the game. He's feeling the tug of being a writer as well. This is a quiet novel in terms of scope, but in terms of the power of its sentences, it's dynamic and moving. Approaching Twi-Night is literary fiction at its best.
Though the book is best suited for baseball lovers, it could be enjoyed by anyone. Non-baseball aficionados won't necessarily get all the references to players from the nineties (David Cone, Mike Stanley, and more), but it doesn't entirely matter. It would help to know the ins and outs of the game itself: what it means to hold a runner on base, and so on. The title itself is a reference to a Twi-night doubleheader (playing two games in a row at night), just as Ditch is living two separate lives at once, wanting to be a writer and a ballplayer.
The nice thing about the novel is the players' relationship to the game. Ditch is in the very minor leagues, playing Single A ball. For those who aren't aware, the minor leagues are divided into Single A, Double A, and Triple A, the league before the Majors. So if you're playing Single A ball, chances are you're never going to make it into the big leagues. This is baseball for players who are excited to get one appearance in the Majors, let alone a starting position. So these players are in it for the love of the game, not driven by glamor or wealth.
This isn't a story about a player making it through the ranks to win the World Series. It's about a guy who's decent at what he does, but not exceptional. He's reaching the end of a not-too-illustrious career in the game. It's not a pure superheroic fantasy. As much as "winning the big game" may be satisfying for some readers, there's a much deeper satisfaction in something that's more immediately relatable. Really at its core, this is a novel about a man struggling at work. He's got problems with his boss and the expectations of many other people, which is the case for many of us. In this way, Approaching Twi-Night is, well, approachable for most any reader.
One unfortunate feature of the book is its cover. Given the eloquence of its prose, the cover doesn't really do it justice. It's not even entirely clear at first glance that the image is of a baseball field. It would be deeply unfortunate to judge this book by its cover. This novel deserves to be read and savored.
Some books are page turners not because of their plot, but the sheer joy of reading how every moment is expressed. No, there's no high-concept action in Approaching Twi-Night, but there is high-caliber prose. Apple is an elegant and understated writer, and Approaching Twi-Night isn't just a fine literary baseball novel, it's a lyrically rich novel about life, work, and family by a writer in command of his craft.
Links
Amazon
Author Site
Goodreads