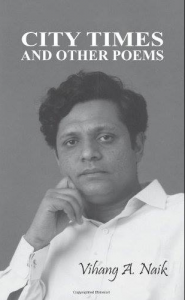 Vihang A. Naik is an Indian poet living in Gujarat, with a prolific career in writing and translating poetry from Gujarati language into English, including his own works.  His collection of poetry here, City Times and Other Poems will be fascinating to poetry lovers interested in words that explore from the inside, as these philosophical pieces capture their environment in a way that can only be crafted by a native inhabitant of an unusual creative mind many readers may not be so familiar with. However, this collection does not necessarily explore India, but more the human condition and the relation of the mind to the physical world.
The poems are about the space between as much as they are about the words on the page, a curious chiaroscuro, with a syntax that echoes Imagist poets such as Richard Aldington or William Carlos Williams, and although the idea of this type of form might be to escape any romantic flourishes and to study the object or the idea, Naik weaves the emotion of his reaction to each movement, change of scene or object in front of him and the edges of that feeling into his construction.
Dealing with family, environment and the smallest details of mundane life in examination, these poems are both vast and tiny in their frames, and tend towards insular and yet unravelled parts on each page, and in each word a painting is given to the reader of the scenes in his stories, simple but rich as if the picture is gifted area by area, ever-changing and brightly described.
The deep interest in synechology is apparent, and gives Naik the tools to birth these bare words, and fabric of the urban dirt of places the poet has inhabited is mixed with the flesh of nature and the soil of his, perhaps past and younger, roots; reflected in the couplet style of many of the works in this book.
The opening poem, "Love Song Of A Journeyman" is, in defiance of its simplistic form, incredibly romantic and warm, conjuring up echoes of Michael Ondaatje's prose, thick in dreamy sequences that soak the reader in its tale. Short, experimental works such as Self Portrait tease with humor. "On Visiting Grandfather's House" is another epic, treasure-filled work, which will inspire with its visual sense and sympathies of family, ancestry and past lives.
Many poems relate more like songs, with the sorts of lines that, because they are lyrical, require more than one reading to glean the full intended and sometimes multiple-layered meanings before moving on to another verse. But this only enriches the reading experience, and draws the reader closer, and slower, to the prize within: often magical, clever and measured.
This is the sort of poetry that can be enjoyed by all readers, as it has weight and meaning beyond that of structure and strands of thought. Naik communicates stories steeped in imagined and perceived textures enough for all to relish in good time. A recommended and unique book.
Links
Author Site
Amazon
Goodreads