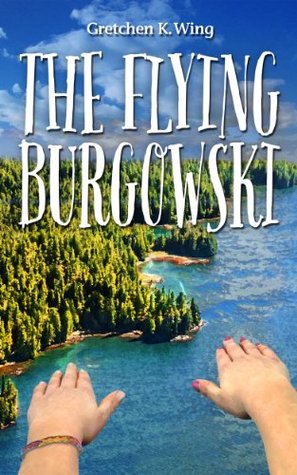 The Flying Burgowski by Gretchen K. Wing follows Joss Burgowski as she navigates life as a teenager who's just turned fourteen, her dysfunctional family living on a small island in Washington, and…learning to fly. The Flying Burgowski is at once a sympathetic family drama and magical fantasy.
Overall, the novel is much more character driven than fantasy, which is one of its issues. Wing is a great writer (not to mention having a great name for a book about flying), but she takes too long with the drama of the book at the expense of the fantasy. There are likely readers who may have the exact opposite response: they'll love the concentration on family dynamics, as this is much more relatable. Wing is great with conveying the doubts and worries of a fourteen-year-old girl, but this is a fantasy novel as well, and certain story-points about her new powers were itching to get out.
The drama is somewhat overwrought at times. Joss dislikes her new stepmom and is dying for her mom and dad to get back together. Given that her mom is a total mess, the new stepmom isn't that bad, and her parents got divorced 10 years ago, it gives a little less weight to her complaints. After 10 years, she might have moved on. The set-up is great though: she wants to fly away from her melodramatic life the way she escapes into Harry Potter fiction, and then literally does. Only her life isn't quite awful enough to fit her amount of anxiety.
Harry Potter is actually a recurring motif: she's continually daydreaming about living in that universe. The difference with Harry Potter is that he fights against Voldemort, in addition to having magical powers. The answer to that criticism is that this is real life, there are no black and white bad guys. True, but this is a universe where flying exists! So either there needed to be more magic or the family drama needed to more harrowing to be fully effective. Ideally, you'd have both.
This sounds like a lot of criticism of a book that is extremely spirited and well-written. The novel is right on the edge of being truly amazing, but takes a bit too much time with its premise. As this is book one in a trilogy, there is no doubt much more to come, but maybe some of the ideas and momentum from future books should have been used here.
Even so, the writing is extremely high-caliber and professional. Joss is truly alive on the page, as are the other characters. There are great nuggets of insight throughout the book. From page 35:
Anger is like dye in water. Once it's in your system it swirls around and stains every little drop of you, till every topic that pours out of your mouth is the same color.
Joss is an engagingly vivid and fun character. This is the kind of writing that's page turning just by the force of the strength of writing and characterization. If there was more urgency to the plot, The Flying Burgowski could be a major bestseller. Wing is that strong of a writer. But as it stands The Flying Burgowski is a quiet book about big themes that takes too much time to soar.
Links
Amazon
Author Website
Goodreads
[divider]