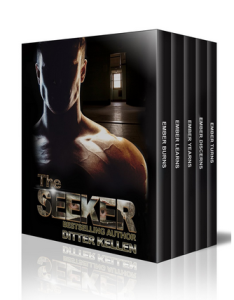 The Seeker: Five Book Box Set, by Ditter Kellen, is a deliciously sinful and thrilling collection that will leave many readers begging for more.
Ember Wells, a reporter, knows all too well how terror can change a person. For a year she was stalked by a serial killer known as The Seeker. When she thinks she's finally safe, Ember learns she isn't.
Angelo Dimitrov, Ember's new neighbor, is a dark and mysterious stranger that Ember is attracted to right from the start. Her past makes her hesitant to pursue any type of relationship, but she can't seem to help herself when it comes to Angelo. Can she trust him? Should she?
Ditter Kellen, an avid fan of romance novels, doesn't attempt to dazzle her readers with enigmatic prose that can be dissected twenty different ways by scholars. Her plan is simple: tell a whopper of a story that will keep the reader glued to the book until they turn the final page. Did she succeed? Absolutely!
This box set includes: Ember Burns, Ember Learns, Ember Yearns, Ember Discerns, and Ember Turns. It will appeal to those who love suspense, paranormal, twists and turns, laugh out loud dialogue, dark humor, snarky characters, and let's not forget, hot and steamy sex scenes. The sex scenes will make most people devour the pages as fast as possible and then they might possibly re-read them just for the pleasure of experiencing it all over again.
But it isn't just all about the sex. Kellen has quite the imagination and she keeps the plot twists coming at the reader at such speeds it feels like the reader is constantly cresting the highest point of a roller coaster and then plummeting, just to be yanked up again and dropped again, over and over. At times it's hard to know if one is coming or going, but one thing is for certain: you don't want to stop reading.
Readers will love Ember, who is beautiful, intelligent, brave, and stubborn. And it's hard to imagine many who will not swoon for Angelo "Angel" Dimitrov. He's the perfect mixture of a sexy alpha male with a soft side. Even though their relationship takes off quickly, they make a steamy couple and watching their relationship develop keeps the reader invested in the story. The supporting cast adds the right dose of humor to keep this serial from being overly dark. The author's ability to include a laugh during tense scenes is a much needed comedic break and makes for an even more enjoyable read.
As the story progresses, it gets harder and harder to put it down. Just when you think you know where the plot is heading, Kellen changes gears once more and some of the surprises are utterly shocking and so much fun. The entire series is over 500 pages, however, it never feels long. Instead it's best to describe The Seeker as fast, fun, sexy, thrilling, and highly entertaining. One could even say that it's addictive. Once you get a taste for it, you won't want to stop.
Links
Amazon
Author Website
Goodreads