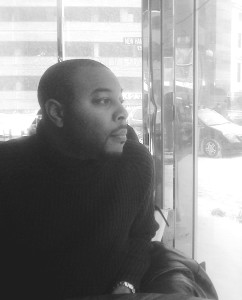 Tell us something about your book. The basics: what's it about?
Our book, "Elliptical: The Music of Meshell Ndegeocello," explores multi-Grammy nominated artist Meshell Ndegeocello, one of the most fascinating and creative figures in contemporary music. She's an artist who defies labels and music genres, continually inspiring many with her profound vision. My co-author Jon O'Bergh and I cover the music from her first album "Plantation Lullabies" to her current "Comet, Come To Me." Our intent was to capture the essence of Meshell's music from a fan's point of view by contemplating her musical journey that has been the soundtrack to our lives. This is the first ever comprehensive look at her career, combining personal reflections on how she has influenced and inspired us, while taking the reader inside her music to explain what makes it so powerful and successful.
How did you come to self-publish? Did you try to get published traditionally?
It's easier these days to self-publish and market a book, with all of the resources available through the Internet. Self-publishing allows more artistic control over the product, a faster timeline to get the product into the marketplace, and cuts out the middleman so the author keeps more of the profit. Therefore, we did not try to publish traditionally, although we're open to it in the future.
What self-publishing service did you use? Happy with the service?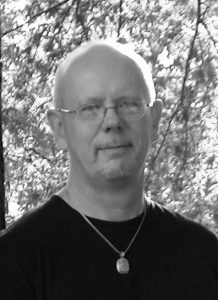 We used BookBaby because, as musicians, we were already familiar with its affiliate company, CD Baby. We have used CDBaby for many years, which offers incomparable benefits for independent artists, and we've been very happy with their services.
What avenues have you taken to market the book? Have you gotten reviews, interviews, TV, print media coverage?
We're right at the beginning stages of promotion and the marketing campaign, such as sending copies out for review, creating book trailers for YouTube, sending out press releases for print media coverage, in addition to offering autographed copies for sale and contest give-away. We're enthused by the interest this has generated so far, thanks to interest in Meshell's profound and visionary music.
What drove you to write this particular book?
Meshell has been called the female Prince, yet she has not garnered a similar level of attention by the publishing industry, and we wanted to try to change that. Her music encompasses all of the important styles of American popular music, from rap to jazz to rock to country. Few artists can lay claim to that scope. She's revered by diverse musicians from Herbie Hancock to John Mellencamp. She has played on countless recordings for musicians such as Chaka Khan, Madonna, Mick Jagger, and Marcus Miller. So it was time to give this great artist her just due.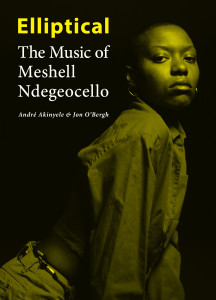 Is the book in any one particular genre? Is it a genre that's familiar to you?
It's not a biography per se, although we do touch on biographical elements as they relate to her music. As musicians, we are familiar with the music industry and with the nuances of music, and "Elliptical: The Music of Meshell Ndegeocello" reflects that.
Who are your greatest writing influences?
I can't think of a particular author, but from a poetic standpoint I'm very influenced by Joni Mitchell as well as Meshell. Jon was influenced by Lloyd Whitesell, who wrote an insightful study of the music of Joni Mitchell.
What's your writing regimen? Any tips for keeping focused?
I'm very driven and structured, perhaps due to my legal background, and tend to be compulsive about routines. I spend a lot of preparatory time researching and analyzing before I start to write. I work best late at night, while Jon prefers early morning. Those are the times when we each seem to rev up with our creative juices. It's important to make best use of the time of day when you have the most energy.
Would you self-publish again?
Absolutely.
Any final words of advice for those looking to self-publish?
Do your research. Pick a company that offers a lot of promotional resources as part of the package (like BookBaby). Think of yourself as a business, and stay on top of every aspect to make sure that others follow through with what they say they can deliver. Don't assume that they understand your concept or ideas sufficiently for you to give away control. As the writer, only you know your true vision.
eBook:  http://my.bookbaby.com/book/elliptical
Print (Autographed Edition):  http://www.amazon.com/gp/product/1631927310