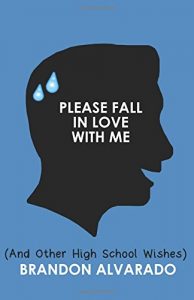 Please Fall In Love With Me (And Other High School Wishes) is a refreshingly candid collection of essays, impressively written by an author still in high school. As there are few books for teenagers, by teenagers, the book aims to fill that gap, and does so effectively. Alvarado has an charming and spirited voice, and he's not afraid to leave everything on the page. At times, the book tends to be a little too loose (stray grammatical errors), but overall it's a strong and funny collection about trying to fit in and finding your true self.
It's not an advice book, though a reader could certainly learn from his mistakes, it reads more like a teen manifesto. That is, it's aim is to show that the teenage mind is as varied and complex as any adult's. On this front, Please Fall in Love With Me succeeds. There's an engaging depth to Alvarado's tales of heartbreak and hardship, yet with the biting wit of someone much older. As the web generation is often buried in phones or other media, Alvarado aims to show that teenagers have an intense inner life.
The book is not just inspiring for the stories he tells, but by the very fact that he wrote a book, acting as a call to arms not just for adults to understand teenagers better, but for teenagers themselves to better express themselves. Then again, not every teenager is going to be as self-assured, funny and flat-out talented as Alvarado. Many good things are coming from this author.