★★★½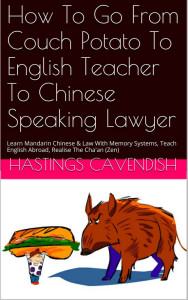 How To Go From Couch Potato To English Teacher To Chinese Speaking Lawyer is Hastings Cavendish's tale of teaching English to Chinese people in the UK, and trying to learn to speak the demanding language of Mandarin. It's at once an ode to the beauty of the Chinese language, food, and an exploration of the hardships and rewards of being an international English teacher.
Cavendish is a fun travel guide. He clearly loves language – learning it and teaching it. As he says, even boring small talk becomes interesting when you're speaking another language. Cavendish immerses himself in all facets of Chinese culture and his enthusiasm is infectious. He's an adventurer, looking up want ads all over the world, and willing to travel wherever he's hired. It's a fascinating look into the world of the freelance English teacher.
Throughout the book, Cavendish's prose is funny and irreverent. The book reads a bit like a letter to a friend. This is a point both for and against it. On the one hand, the book has a breeziness and looseness that's engaging and entertaining. However, the narrative jumps around just a bit too much. Suddenly he starts talking about some type of international cuisine, and then he's back talking about language. It's as if he wrote everything as it came to him with no sense of an outline.
The main problem with the book is Cavendish assumes a knowledge of Asian languages on par with his own. The beginning of the book dives right into the narrative without any introduction to who the narrator is or his circumstances. It's a fascinating topic, but Cavendish appears so familiar with the subject that he doesn't fill in the blanks for the novice. As someone who know almost nothing about Chinese languages and dialects, some of the concepts are gone over far too quickly.
As a result the book seems somewhat geared to people who have been in his situation – learning Asian languages and teaching English – and less geared to someone who comes to the book with no working knowledge of Asian languages.  This would be fine if the book was a little better organized, but overall it just feels rushed.
For example, there's a brief interlude where Cavendish writes about learning Japanese:
We began our Japanese lessons on day one as we were taught the writing systems of Hiragana and Katakana.
No more is explained about what Hiragana and Katakana actually are. For any reader who doesn't know a lot about Japanese – and wants to learn – moments like this happen far too often in the book. So while there's no shortage of enthusiasm exhibited in the book, it needed a bit more of the nuts and bolts to be fully informative. It's as if Cavendish is giving a wink to those who actually have studied the language and know implicitly what each concept means. The rest of us are left to wonder.
All that said, How To Go From Couch Potato To Chinese Speaking Lawyer does make the pursuit of learning a new language seem exciting and worthwhile. The book is certainly a fun read: there are very funny stories throughout, such as being chased by wild dogs in a Buddhist monastery. It just needed more technical details to be a fully satisfying read.

Links
Amazon
Goodreads