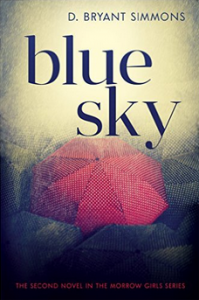 Blue Sky, the second book in the Morrow Girls series, starts off where book one left off: after "Pecan" Marrow has struggled through an abusive marriage while trying to raise four dynamic girls, Blue Sky follows the life of the girls. The girls have broken spirits from their tumultuous upbringing, but they're still plenty spirited. One by one, we learn the girls stories and how their past and family affected their present life. It's not just a case of the girls against the world: it's the girls against each other.
Their intertwining stories are harrowing and tragic in many ways, but also intensely moving, and as a reader you're pulled deeper and deeper into the Morrow girls' stories. The shifting point of view of the four main characters gives the narrative a freshness and depth. It's the kind of book where you become friends with the characters by the book's end.
Blue Sky makes clear why the first book, How to Knock a Bravebird from Her Perch, has become a bestseller and gotten a lot of attention. Though it covers the gamut of difficult issues such as domestic violence and addiction, it is not unrelentingly dark, as family dramas can sometimes be. There's hope and humor among the turmoil. Simmons is a gifted and multi-faceted writer, and the Morrow Girls series has earned its accolades. Check this one out.
Links
www.themorrowgirls.com
Facebook
Twitter
Amazon
Goodreads