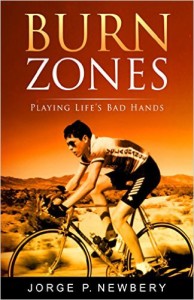 Burn Zones: Playing Life's Bad Hands is Jorge P. Newbery's autobiography about going from rags to riches to rags again, and still staying strong along the way. Becoming a real estate mogul at a young age owning over 4000 apartment buildings and a net worth of tens of millions, it all came crashing down with a botched investment in Ohio. Newbury was arrested and ended up $26 million in debt. That's not a typo.
In racing parlance, a Burn Zone is the toughest part of a bike race, which tends to separate the wheat from the chaff. If anything, the cover is a bit too cycle-centered, as the book is more focused on overcoming obstacles. Everyone faces Burn Zones in one's life, and some people's are worse than others. In Newbery's case, the Burn Zones were pretty excruciatingly bad. Everyone has to deal with money and daily problems with debt. Newbery's problems were enough to crush most people, just out of sheer worry, but he came out the other side, battered but not beaten.
What separates Newbery's tale from other books by business leaders is he's a true underdog. He doesn't boast about a lavish lifestyle and all the money he was making. In fact, it's the opposite: he's frugal and modest, with his business mindset formed by the punk ethos. One doesn't really think of punk and business leader in the same sentence, giving the book broader appeal for both professionals and those who wouldn't ever think of picking up this sort of self-help book. When he loses his money, he still has the same fighting spirit as his punk rock days. There aren't many people with as much boundless enthusiasm as Newbery. Even without his tale of hardships, the story of his work ethic is inspiring enough.
Too often, books by business leaders have the flavor of "Look how great I am." Though Newbery's life has been impressive (both the highs and lows), he's not overly boastful. He doesn't sugarcoat anything either: his failures are real, and they didn't stop being failures. He's not happy about his struggles, but he's not letting them destroy him either, and that's the core message of the book. Not: you can triumph over adversity and become a millionaire overnight, but: failure happens and take them on with a full head of steam, whatever happens. His candor is refreshing and inspirational.
The main takeaway from Burn Zones is to have a good work ethic. Again, that's a fairly common trope in business-centered self-help books, but Newbery has truly walked the walk – working from the tender age of seven. Reading about his experiences could very well be transformative for the very fact that he's suffered so much, and he's now on the other side. Likewise, his frugality is commendable. This isn't a "Wolf of Wall Street" rise and fall, it's the rise and fall of someone with a moral center. As such, he's someone to emulate, not just marvel at.
Words like "inspirational" can make some recoil that this is a self-help screed. Though there's certainly a flavor of that, this is also a true autobiography: you won't just read for the inspiration, but because you're invested in Newbery's life. Not many business books can be called page-turners, but Burn Zones is one of them.