★★★★½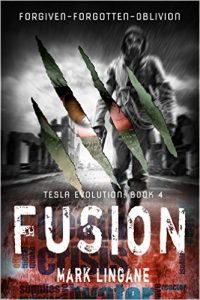 The world ended, but that was just a new beginning. Sebastian is no longer the boy whose mother was taken from him, or the wide-eyed student of the Academy. Cyborg armies, zombie plagues, magnetic magicians, and insane warlords are all just par for the course at this point, and fate proved too powerful for even death. Finally, scores are to be settled, and the growing darkness to be faced in Fusion, Book 4 and the finale of the Tesla Evolution series by Mark Lingane.
This sci-fi mash-up has been a favorite of mine for a long time, but to call the premise overblown would be an understatement; the shark was jumped a long time ago, blown apart, then brought back as a zombie-cyborg ready to be jumped over again. Still, Lingane's art is his ability to make the ridiculous come together in a way that seems reasonable and workable – appropriate, even. In a chaotic world, the discordant and weird are perfectly suited.
Fusion is the final culmination – a "fusion", perhaps – of all the bizarre elements of the previous titles, and finally the shambling monster of the Tesla Evolution series has come to rest. Sebastian is, at this point, far from his starting point both mentally and physically. The character is almost representative of the series as a whole: shaped, reshaped, and reanimated by so many different powerhouse influences that they stand both powerful and shattered by the experience. Fusion has certainly inherited every positive of the series so far, with cunning wit at unexpected times, a rich setting of unusual elements, and a lot of popular elements popped together in a very appealing and readable package.
It does suffer from a considerable bloat that was obvious from its previous installment, and it's wise that the story ends here. Events have slipped quite dramatically into an intensely miserable situation that really doesn't let up as much as it would have two books ago. The horrors of conflict are unrelenting and every small victory feels snatched away with complete inevitability, dragging the read down.
The characters from previous do return on form with a lot more maturity and rounding to them, especially a certain cyborg that stands out from the rest of the cast in every way. The writing is emotive and strong, though the story very frequently whizzes through where a little more description or time to let an impact sink in might have been preferable. The unstoppable pace does make sure you're always hooked for another page, but could still have let up just a bit more to let you soak in the world.
Lingane has been a consistently enthralling author and I'm very glad to have had the pleasure of following the series as it has come. Still, I am a little disappointed that it didn't end as strongly as it could have. The book is weird and wonderful, but this swansong could do with a little more of the sparkle of its earlier parts. No spoilers, but new readers should save this part until after the first three, or at least the previous two where the plot really begins to kick in, as this finale really just ties things up for the others rather than standing strongly as its own book.
For fans like me however, there's good news : Lingane has also recently written an expansion of his Para-noir-mal Detective series with Sucker, and promises a new series more similar to Tesla Evolution soon. Hooray!
Links
Author Website
Amazon
Barnes & Noble
Facebook
Goodreads
Twitter