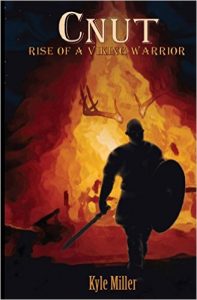 Cnut: Rise of a Viking Warrior by Kyle Miller follows Cnut as he grows into a young man and trains to be a warrior in the British Isles after his mother Astrid, a shield maiden and the daughter of a jarl, leaves the Norselands to come to Wessex after falling pregnant. The storytelling is something like the style of Ken Follet – a lighter historical read that does not focus so much on true history and fact as the character's journey. Detail of Cnut's warrior training by his friend Rolf, and his foray into romance with Hild — and into marriage and bloodshed — sets up the saga for further books. The tale is somewhat derivative, but maybe that's a good thing for Viking fans who want more of the same.
Cnut goes through his warrior paces, with trusty sidekicks and his mother, a spiritual person who adds the backstory to Cnut's more in-the-moment life, setting up a glimpse of what might come in future plotlines. Despite the fun to be had in this tale, I found it hard to get past the text itself, as it needs a proofread and a content edit from the first page, and therefore it jolted me out of the story on occasion.
I didn't buy into the voices of the characters, either. They seemed too modern and too educated in a more civilized way than Vikings would have been, so I'm not sure about the book being written in first person, because the detail and emotion is needed, and so there is a conflict of sorts by using this big warrior Cnut as the narrator, who at times sounds more like a Edwardian gentleman than a rough Middle Ages bastard fighter.
Maybe it would have been better written with a third-person narration, therefore allowing the author the more sensitive observations and emotions that instead the protagonist has to endure in order to communicate the story. There are a few historical errors that Vikings fans will catch with more modern land names and words being used than would not have been known in Viking times, so this too might interfere with the read for some.
But for the most part the book packs in a lot of historical details that sweep the reader into the scene, and this will be relished by historical fiction fans, although there might have been more detail in battle and weaponry for my taste to make this book as bloody as it needs to be.
With a slight revamp on the book cover, which currently is somewhat lacking in the font choice (and reads a bit like another word, unfortunately) and a re-edit to iron out the character voices, this book could be taken to another level of readership, but right now it will  please those who like the idea of a warrior tale in the Viking tradition with a series to come to invest in with a plot of bloodlust and revenge as Cnut retaliates to events that take place in this first installment.
Links
Book Site
Facebook
Amazon
Goodreads