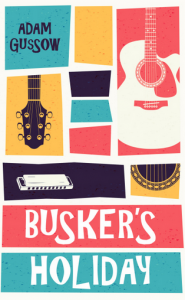 Busker's Holiday by Adam Gussow is a fictionalized account of busking in the streets of Europe over one summer. Filled with a great passion for the Blues, and lyrical evocations of European life, it reads like a Beat Generation novel for a new generation. If you have a love of music, a love of travel, and a love of eccentricity, Busker's Holiday is an exhilarating read.
Given that Gussow is an acclaimed harmonica player himself, with a popular how-to YouTube channel and a non-fiction book about busking in Harlem, there is little doubt that this book is a veiled memoir, and that's what makes it particularly electric and engaging: it reads like a story really, truly lived. Gussow knows his stuff – the sights and sounds of Paris, the feeling of playing for a crowd, and a great love and knowledge of the Blues. The book is punctuated with lyrics from the Blues songs he's playing, which gives the novel an increased scope and lyricism.
Personally, as a musician who's never had the guts to go busking in the States, let alone in a foreign country, Gussow paints a fascinating portrait about what it's like to put yourself on the line in public. It's maybe a shade too magical a portrait, as the audience seems to be instantly taken with what he's doing, and in any busking situation, people's indifference would seem to be as much of a hurdle as the police trying to shut you down. But the book's core enthusiasm is what shines through – the kind of adventurous spirit you can only have when you're young.
Likewise, his relationships with women, though fraught at times, have a core sense of adventure rather than any deep sense of pathos. That's not a criticism – what makes Busker's Holiday really move and inspire is how positive Gussow is about everything thrown his way, and his great affection for the madcap characters he encounters. It's like the busker's version of Kerouac's famous quote, "The only people for me are the mad ones, the ones who are mad to live, mad to talk, mad to be saved, desirous of everything at the same time…" That explains the mood and scope of Gussow's book perfectly.
Is this On the Road for the busking set? It's not quite there – it's more like On the Road once removed. As the lead character, McKay Chernoff, is a Kerouac scholar, there's a self-consciousness to this European adventure, an awareness of doing things like his heroes. In addition, the prose isn't quite as frenetic and poetic as Kerouac, though it comes pretty close at times. The spirit of the Beats is there in spades, however, which makes it a uniquely inspiring read. You'll end up looking back fondly on your own past twenty-something adventures, or want to set out on an odyssey of your own.
Overall, Busker's Holiday is refreshing in its absolute devotion to a life fully lived. It may be telling a tale of thirty years ago, but in the present moment of "likes" and "shares" taking the place of real experience, Gussow's enthusiasm is at once old school and greatly welcomed today.
Links
Modern Blues Harmonica.com
Amazon
Barnes & Noble
Goodreads