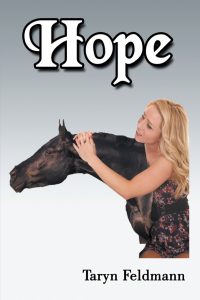 Hope by Taryn Feldmann is a novel about abuse and recovery. Emily and Sarah have had a horrible upbringing due to their abusive father. Emily moves to New York with dreams of being an actor, while Sarah succumbs to drug addiction. When Emily learns of the healing power of a horse named Hope, she brings her sister to Wyoming to help put her on the right course. However, Emily falls ill to Leukemia and finds she needs the healing power of Hope as much as her sister. An emotional novel about overcoming pain and a troubled past.
While the novel covers many heavily emotional issues, it suffers a fair amount from "show don't tell." We're told about horrific events, such as drug abuse and spousal abuse, and the emotional fallout, yet major moments are covered in only a few sentences. Additionally, there are fair number of grammatical errors, with dialogue between different characters put into a single paragraph. If these things were cleared up, it would only add to Emily and Sarah's interesting story arc.
Those criticisms aside, it's clear that Feldmann has great empathy and compassion for her characters and that comes through on every page. Feldmann is clearly a passionate writer. So passionate that she might need to slow down a bit when crafting each scene. Overall, it's a moving and hopeful story, as the title suggests.
Links
Author Site
Twitter
Amazon
Goodreads