★★★★½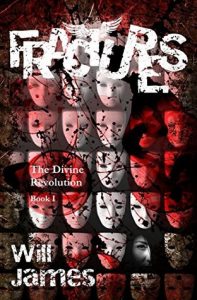 Content warning for violence and some mention of sexual assault.
Deborah is a professional. She's never been one to rest on her laurels and expect an easy job, even if everything seems to be going her way. Somehow she almost expected her own death; almost an inevitability for a life-long assassin. What she never expected was her fate afterward. Contracted into a legendary job by an ethereal client, even she admits she'll need help on this job. Death breeds more death, but this job comes from beyond death in Fractures, the first part of The Divine Revolution.
Fractures feels familiar in a lot of ways: a cosmic revolt, and one sinner is pulled into the fray. It features a main character with initially very little beyond a surface of a professional assassin. It's easy to imagine the concept has been trodden before, and likely approached with little depth. Thankfully, Fractures defies that expectation.
Deborah is a much richer character than she easily could have been. While the book starts with the kind of tid-bit scene of the final fall of a sinner that might have made a good short in Sin City, the book really starts at the figurative end. Despite having a lot going on at a very high level, Deborah's flaws and "demons" are a big part of the story, making a far more tangible and relatable experience in a book that concerns itself with some very big ideas. So big, it appears, it will comfortably progress throughout the upcoming series. I'm usually slightly sceptical of sequels, but after reading this title, I'm quite excited to see what's upcoming.
The writing is solid and quite straightforward, sticking to a reliable writing style that does the story justice. The story itself has plenty of turns and it keeps you glued, a brisk pace making sure there's not many slow periods but there's some – thankfully quite light, not tiresomely pseudo-gothic – brooding, pardon a word dirtied over the years, layered over everything that just brings things into a cool, thoughtful tone. It's very metered and a slick experience that hits a perfect balance.
It does evoke, for me, a lot of graphite-edged modern gothic that gained popularity in the '90's, which might not do as much for others as it does me. I definitely enjoy the notes of nostalgia I, perhaps unintentionally, got from the book, but admit the trend died from exhaustion a while ago. The heavenly revolt could easily tire some readers, and for those on the fence, there's also a lot of discussion that might get on the nerves of readers itching to simply get on with it. Personally, I didn't have any kind of problem with it, but have to acknowledge that I'm not a majority thinker here.
Despite a, to be blunt, very discouraging and barely readable cover, the contents of this book are lean and satisfying, honestly deserving a continuation. It's a cool book, refreshing but familiar, and does an implacably nostalgic concept the justice it deserves.
Links
Will James Books.com
Facebook
Amazon
Barnes & Noble
Goodreads