★★★★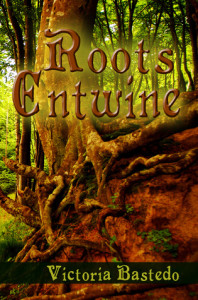 Doing one small thing can make a world of difference, if it's the right thing.
Roots Entwine by Victoria Bastedo is an entertaining and heartfelt young adult fantasy adventure.
15-year-old Joaquin is different. When just a baby his family decides to keep him hidden from the people in town. Joaquin can hear a man's heart beating a half a mile away. He can see in the dark. His smell is enhanced. But his gift comes at a price, including severe pain and near-coma sleep. Even death is possible if overused. Joaquin is a Phoshat. Kallum is seeking people to join his mission team for the king. He wants a Phoshat. Kallum convinces Joaquin's family to let the boy join the team. But is Joaquin, who isn't quite a man, ready for the quest?
Young adult fantasy adventure novels, when done well, make for exciting reading. But the good ones offer more. Roots Entwine does just that.
This novel isn't just about the king's mission. It's about discovering that no matter how gifted one individual is, he alone can only accomplish so much. If he works with others that helps the greater good. This is a wonderful lesson. All too often in life, many of us can feel alone. It takes courage, confidence, and trust to learn to rely on others. Joaquin and his teammates learn this over the course of their mission. And the best part, Bastedo doesn't beat the reader over the head with this message. The story is the message and most won't even know that they are learning a valuable life lesson.
The author never forgets that Joaquin is only fifteen. He doesn't sulk about his gift, but he doesn't always make the right decisions. That's good, because not many teenagers, no matter their intelligence and gifts do. This aspect makes it easy for readers to relate to the boy with special powers. He's easy to cheer for and to forgive when he does make a mistake.
Oddly, there aren't too many women in the story. Those who do appear play small roles. This doesn't mean that young adult fantasy novels need to have a certain amount of men and women, but it is unusual for an author in the twenty-first century to pen a coming of age adventure to almost completely ignore women.
One other niggle was the lack of character development. Bastedo allows the reader to get to know Kallum, Joaquin, and Hesir as individuals, but many others, including two team members, Milte and Pearce, aren't given enough attention to bring them fully to life.
The driver of this story is the plot. Bastedo provides enough twists and turns to keep the reader engaged. As the excitement builds, the reader starts to realize that not everything is as it seems. The major twist at the end leaves hope that the story isn't over. Could a sequel be in the works?
Roots Entwine is packed with action that will keep the reader's interest. Young adult readers will cheer for the boy who'd remained hidden for most of his life to finally find his way.
Links
Amazon
Lulu
Kobo
Goodreads