★★★★½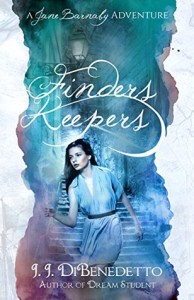 It's the start of a new life for archaeology student Jane Barnaby. Away from her home and her father back in the States, she follows the spirit of her mother's wishes all the way to Oxford, England, and her dream school of Magdalen College. When her respected mentor at the college, Professor Welldon, asks for a favor, Jane jumps at the chance. However, fate strikes as her delivery, a box of pottery shards, is mixed up with a box of precious ancient Egyptian artifacts.
When it becomes clear that nefarious elements are in pursuit of the unintended cargo, it's a race across Europe to protect history and to get back to Professor Welldon in Majorca, Spain. Will Jane and her newfound allies be able to bring the bounty to the Professor in Spain, in-tact and on-time? What dangers await them as they enter a world of treachery, mystery, and crime? It's a dark game afoot in Finders Keepers by J.J. DiBenedetto, the first book in The Jane Barnaby Adventures series.
The author, J.J. DiBenedetto, is quite a seasoned writer, having published no less than eleven novels. His inveterate nature is apparent from top to bottom on this flagship title of his new series. Though initially naive, Jane is a character with plenty of depth left to explore and personality to expound upon in the future, never ringing hollow or plain at any point in the book. The same goes for her eventual fellows, who are difficult not to fall in love with.
Despite being an American author, DiBenedetto has done a great deal of research into the location, feeling comfortable dropping details into the mix that really contribute to the immersion. However, as a Brit reading this novel, some of the most striking elements of the city of Oxford and England as a whole are not noted by newcomer Jane despite her thorough exploration and historical knowledge of the area – although, relentingly, the comparatively ever-gray weather experienced by Miss Barnaby in the book is undeniably accurate for many American guests.
DiBenedetto's writing style also has some quirks that can take some getting used to, such as a habit of over-using names as personal pronouns and just a few too many semi-colons to boot. Otherwise, it's hard to criticize too harshly, as these are small points to get hung up on; only a few slight snags to note in the read on the whole.
If there are hang-ups to be found in this title, it's easy to imagine that they'll be ironed out as Jane settles into her next installment. This is a beautifully presented book – thorough compliments to the artists involved – and it is full of excitement and adventure, with some really engaging plots weaved throughout. It's a thrill to read, packed with great characters and complex mysteries, and it's oh-so-difficult to not recommend.
Links
Author Site
Twitter
Amazon
Barnes & Noble
Goodreads