★★★★½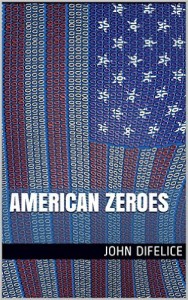 American Zeroes by John DiFelice is a darkly comic bit of brilliance.
Novels that defy classification make for an entertaining read, and that is precisely what John DiFelice delivers in American Zeroes. Behind the rambling and sometimes confusing storyline is an intelligent and witty author who knows which subtle buttons to push for laughs, tears and thoughtful musing, forcing readers to see the world through his twisted lens.
At times, the book reads like the rambling manifesto of a conspiracy theorist, or a legitimately deluded patriot, which isn't actually far off the mark. Jeremiah Stumpf is a modern-day antihero: oversaturated by the media, paranoid, a strong believer in truly strange things, and stubbornly convinced of his own correctness. Everyone can recognize the main character, even if they can't relate to his particular brand of living, and his mind is more than crazy enough to be compelling.
Comparing one author to another isn't always fair, but it's impossible to avoid in this story. The recurring themes and discussion of Ayn Rand's writing provide an epic, philosophical framework for this plot, and while some of the more heady moments come through a haze of bong smoke, they are all whip-smart in their own way. Shades of Thomas Pynchon's later works and the hedonistic abandon of Hunter S. Thompson also make an appearance, but DiFelice's overall style is undeniably his own.
For a book that skirts the edges of numerous genres – thriller, satire, stream-of-consciousness diatribe and flat-out farce – American Zeroes never seems to lose its identity or final purpose. The crispness and rapid pace of the writing forces readers to pay attention and take it seriously, but most people will find themselves shaking their heads in amazement or amusement at the bold strangeness of the story.
This book invites readers into the mind of a madman, but Jeremiah Stumpf boasts the type of insanity that is alive and well in this country. From binary code deductions hidden in the Declaration of Independence to the tireless Cold War against his terrorist neighbors, the narrator is a mirror for the mistrust and senseless fear being propagated in the world today.
As Stumpf says near the end of the book, "There are no coincidences in this world. Nothing happens by chance, I fully believe that. We are all at the mercy of sinister forces vying for control of our bodies, minds, and souls and they will not stop until they have enslaved us." Jeremiah is a man of action and belief who wants to positively change the things he sees as "wrong" in the world – an emotion to which readers can likely relate.
However, over the course of the book, he stops coming off as a proud patriot and begins to resemble an ignorant talking head, rattling off figures from Rwandan genocide peacekeeping missions and spouting racially biased opinions in the same breath. Jeremiah Stumpf is a consummate modern American in the sense that by being so concerned with the problems and mistakes of others, he is unable to see his own failings. This book will send readers into fits of laughter, but also turn their stomachs at other moments, because Jeremiah is far from a caricature. He's the archetype for a new demographic in America.
For a first novel, DiFelice knocks this story out of the park, brilliantly blending philosophy, paranoia, brotherhood, patriotism and hot-button issues into a romping novel that seems remarkably contemporary, but also clever enough to stand the test of time.
Links
Author Site
Facebook
Amazon