★★★★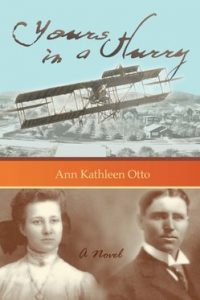 Yours in a Hurry by Ann Otto is a fascinating work of historical fiction that takes place in the early 1900s, when aviation was in its infancy.
In 1901, the lives of the Hartle children are changed forever when both parents die suddenly. In 1908, the three oldest – Anna, Addison, and Purl – have reached adulthood and inherited a considerable sum of money. All of them decide to leave their small Ohio village. Anna moves to Los Angeles, Addison chases his dreams to own and fly a plane, and Purl joins the army. Their lives are greatly influenced by the times and people they encounter.
Otto's debut historical novel is ambitious. The events surrounding this time period have been written about by many historians and other historical fiction writers, but Otto's approach offers a new voice to an exciting time. Her decision to cover three of the Hartle clan is a wise move, allowing the novel to cover many historical events that shaped American ideas and influenced the world stage. There isn't a dull moment during the years Yours in a Hurry spans.
The siblings interact with many famous names from the era, some of which may not be as well-known today, but their achievements haven't been forgotten, especially in regard to aviation. Today, thousands of people fly every single hour of the day, but back then, aviation was brand new and terrifying. Addison's desire to become a pilot allows the reader to get an intimate behind the scenes look into all the drama, risk, and adventure around aviation.
Otto's inclusion of female pilots is refreshing. All too often, women's achievements are ignored throughout history, or they receive brief treatment. When most think of the early days of aviation, the Wright brothers come to mind. Their contribution was great, however they weren't alone in advancing people's dreams of flying. Otto proves that she has a handle on key historical moments and deftly includes many momentous events in American history, some of which don't play a huge role until much later, such as the construction of Pearl Harbor.
At times, however, Otto assumes the reader will remember the crucial details of certain events, which many fans of historical fiction will, but some will not. It would have been helpful if she included a line or two to refresh the reader's mind about key people, events, and their historical significance. This is always a difficult line, since the author doesn't want facts to overtake the story. For the most part, Otto handles this balance well, but a few well-placed reminders would be welcome.
Another issue concerns Otto's decision to include scenes that don't involve the three main characters. While learning more about the pilots is fascinating, it is hard to keep all the names and plotlines straight, and could have used some paring down.
Overall, Yours in a Hurry is an entertaining historical fiction novel that will capture the reader's imagination. Otto's fictional account of her ancestors is a wonderful example of how every person, even ones who aren't included in textbooks, played a vital role in history.
Links
Author Site
Amazon
Goodreads