★★★★½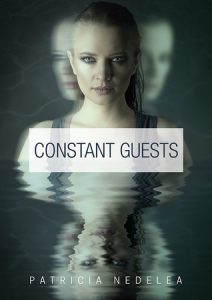 Isa would probably say she's your average girl. Maybe it's wishful thinking – with all the turbulence in her home and personal life, it's easier to drown herself in the party scenes of Paris. Too bad for Isa the unusual circumstances of her birth come crashing into her life as her biological mother – the one she only just found out about, no less – dies in front of her without a word.
Confronted with some uncomfortable truths, the unusual event urges Isa to find more, and into a mystery that her mother was willing to die to solve, one that has the interests of the underworld, and even more powerful forces beyond. Will Isa succeed in solving the mystery she has unwittingly inherited, or will the stories, legends, and the hidden meanings of the very first tarot deck lay undiscovered? What will Isa sacrifice, and what does she stand to gain? The hunt is on in Constant Guests by Patricia Nedelea.
Debut author Patricia Nedelea arrives in fantastic form with this first title, showing a clear talent with storytelling from the very first page. The author uses a gorgeously immersive style to submerge the reader in all the senses and emotions present in every chapter, but remains on point and doesn't get too caught up in the sensations or, more damagingly, the prose itself. Her focused emotive language pushes forward the plot beautifully and really has you on a drip for the next reveal. It's very easy to slide into the read and find yourself lost in it quite quickly, hooked in and caught up in the many novelties the story has to offer.
And "novelty" is apropos, though without the problematic connotations, as the book is billed as a "hybrid adventure book" for its blending of fiction and non-fiction and the multiple genres of action, adventure, mystery, fantasy, and history. The result is an intriguing and creative read.
The deep, detailed, imaginative plot is really enhanced by building on real-world history, which has obviously been thoroughly researched. Mixing up these fantastic elements is a risky move, but one that pays off. It's an eclectic mix to be sure – in the hands of a less skilled writer this could have been discordant – but Nedelea's artful writing sticks the landing admirably.
There's a lot to like here without much to criticize. Some readers might find the read a bit heavy, while others will be swept up by the writing to the point of needing to go back now and then to really comprehend what's actually going on. These points aren't really faults against the book itself, but warrant acknowledging.
Readers of titles such as The Da Vinci Code and its sequels are likely to enjoy the read immensely as long as they're willing to commit a little more to the read, certainly, and those used to historical fiction are likely to do well with it as long as they can get on with the more fantastic elements.  Constant Guests is a deep, immersive, modern historical fantasy, certainly worth the investment of any reader's time.
Links
Author Site
Facebook
Pinterest
Instagram
Amazon
Goodreads