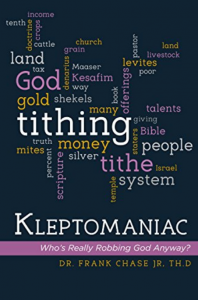 Kleptomaniac is an insightful and well-constructed argument on tithing and offerings at church, not only defending the author's decision not to give money blindly, but also defending his right to seek the truth in Bible Scripture.
Everything that the author Frank Chase Jr. says is backed up in some way with huge amounts of research, resulting in a comprehensive and rather airtight argument against this unfair system that is often foisted on believers.
The balanced approach of the book is particularly enjoyable; there are no judgments or inflammatory language, but there is simply impassioned debate from a man who cares enough about his religion to perform his due diligence.
There are a few points that seem to veer off into unsupported opinions, but these are few and far between. Furthermore, there are a number of spots where word choice is a bit odd (e.g., "I asphyxiated on verses about tithing", rather than fixated) and some grammatical editing is needed here before this is published. However, despite the delicate subject matter, the author approaches the topic with well-researched evidence, solid facts, and his own firm beliefs, to deliver a very insightful read recommended for those interested in or needing information on Church culture and community.
Links
Author Website
Facebook
Amazon
BookBaby
iTunes
Goodreads