★★★★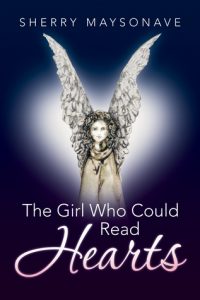 Six-year-old Kate Kindrick possesses a rare "seventh sense" passed down through generations of her father's family: the unique ability to see inside of people's hearts. A heart might look like "a Grand Canyon disaster, full of oozing painful craters and gorges" or be "covered with gray-green storm clouds, all dotted with icy pockets." The Kindricks also have prophetic dreams and sensations that inexplicably link them together from miles apart. Kate's intuitive gift is magically linked to an angel doll called Etta Ebella, gifted to Kate by her beloved grandmother, Mer.
But when the prized doll is marred in a birthday candle accident, Kate's uncle Terrence appeals to a new friend for help: the beguiling Dr. Angelique Donahorn, who has experience with dolls. When Kate hands over Etta Ebella, Dr. Donahorn can't believe her eyes. She's seen this doll before. As she grieves a recent loss, she thinks over her own family history of strange, magical gifts. Author Sherry Maysonave provides a sensitive, empathetic exploration of grief and regret through the character of Dr. Donahorn, capturing the details of the experience in a realistic fashion.
Maysonave weaves characters together artfully, intersecting with each other in surprising ways that drive the plot. The arc is clever and mostly well-constructed, though there are a few minor events that are never fully explained. Her villains, Uncle Vaynem, and his church cohort, the racist and homophobic Virginia Veetlehurst are almost comically awful – caricatures of evil that are somehow the least believable part of the story. These characters impact a little on the storytelling, but overall the book is sensitive and affecting, and will touch readers in its sincerity.
The author can be heavy-handed with her moralistic themes at times: usually these come up through the interior monologue of the doll, Etta Ebella. Phrases like "the paradox of American ideas about skin color" stand out awkwardly and detract from the more subtle messages developed elsewhere. A lovely vision Kate has of the "Great Angel Mother" making lemonade out of the world's "regret-filled lemons," for example, is a much more effective moment without the overt grandstanding. Generally, Kate's thoughts, with a child's literalism, are the most fun to read. When Uncle Terrence says she has a "big ear for words," Kate touches her ear to verify its size – a sweet and touching moment.
Maysonave's overall themes of the triumph of human intuition and positive thinking over toxic negativity and prejudice are explored in many creative ways. The elements of grief and loss are explained as being based on the author's personal experience, and as such, come across as very true to life and honest. At its core, the writing covers a wide range of themes eloquently: racism, abuse, forgiveness, religion, the afterlife, and more. It's rife with heavy issues to be sure, and therefore incredibly moving.
Readers should be made aware before reading that there is some disturbing content one would not necessarily expect from a book about angels, including some offensive language and violence against children and animals.
Links
Author Site
Facebook
Twitter
Amazon
Barnes & Noble
Goodreads