★★★★½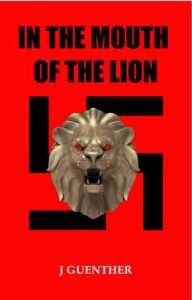 Overflowing with rich history and a huge amount of research, In the Mouth of the Lion is a thorough and wildly entertaining piece of fiction based in real fact. Tackling a novel that requires putting yourself in the shoes – and mind – of Hitler is ambitious, to say the least, but Guenther delivers a surprising level of empathy and insight, giving readers a different view of history.
What makes the book particularly effective is its basis in real events. While the story of Carl Jung visiting and diagnosing Hitler sounds fantastical, it's actually based in fact, as Jung was indeed invited by one of Hitler's doctors to visit Hitler. Jung actually declined, though there were plans from the American side for Jung to act as a double agent and find out Hitler's secrets. Instead, Jung diagnosed Hitler from afar. Guenther plays with this story and has Jung actually enter Austria to diagnose Hitler firsthand.
What unfolds then is not just an account of Hitler's mindset, but Jung's as well, and his overall worldview. It's a portrait of two "giants" going head to head – one evil, one thoughtful. It's one task to write effectively about one historical figure, but two major figures is quite the undertaking, which Guenther pulls off masterfully, as both of these "characters" seem like living breathing people, as do the other people populating the novel. They're not historical caricatures, but read like a reflection of real men and women, which is a hallmark of successful historical fiction.
Hitler certainly comes off as sinister, as do the SS, but not one-dimensionally so. The purpose of the book is to actually try to understand the mind of a monster, which really is an important undertaking. Jung may never have literally entered Hitler's bunker, but this is as close as we're going to get, and it's instructive about what drives a person to genocidal madness.
At the same time, Hitler is all too human. By humanizing Hitler with therapy, and showing him to have the failings and insecurities of normal people, the author strips away the "evil" mask and forces readers to consider the man. Early in the novel, one quote stands out in particular: "Only, in our case, it is the Shadow who lurks in the hearts of men, and we who want to know what the devil is inside." That is the tone of the entire book; an analysis of human nature in its cruelest form, and Guenther spares no amount of detail or depravity.
The progress of the story is rapid, but Guenther also takes his time in many scenes and descriptions. He is a patient writer, and incredibly attentive to detail, making this fictive narrative engrossing, in a way that history books rarely are. Yet at the same time, the novel possesses the weight of history, as the book is so meticulously researched.
In the Mouth of the Lion is not always an easy read, as the subject matter is disturbing in many places, but it is insightful, and the quality of the editing, writing and research makes this a stunning novel from an established and highly competent author.
Links
Author Site
Author Blog
Amazon
Goodreads