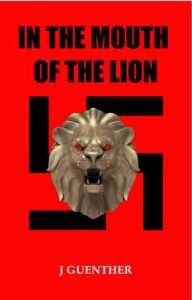 Overflowing with rich history and a huge amount of research, In the Mouth of the Lion is a thorough and wildly entertaining piece of fiction based in real fact. Tackling a novel that requires putting yourself in the shoes – and mind – of Hitler is ambitious, to say the least, but Guenther delivers a surprising level of empathy and insight, giving readers a different view of history.
By humanizing Hitler with therapy, and showing him to have the failings and insecurities of normal people, the author strips away the "evil" mask and forces readers to consider the man. Early in the novel, one quote stands out in particular; "Only, in our case, it is the Shadow who lurks in the hearts of men, and we who want to know what the devil is inside." That is the tone of the entire book; an analysis of human nature in its cruelest form, and Guenther spares no amount of detail or depravity.
The progress of the story is rapid, but Guenther also takes his time in many scenes and descriptions. He is a patient writer, and incredibly attentive to detail, making this fictive narrative engrossing, in a way that history books rarely are. It's not always an enjoyable read, as the subject matter is disturbing in many cases, but it is insightful, and the meticulous nature of the editing and writing makes this a stunning novel from an established and highly competent author.