★★★★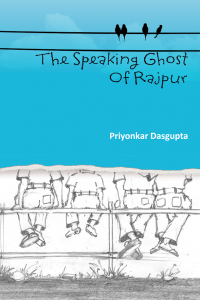 Depending on where a person is born and raised creates a unique perspective of childhood. Therefore, seeing an intimate and vivid depiction of childhood from someone in another part of the world can be a truly eye-opening experience. That is the world inhabited in The Speaking Ghost of Rajpur, a whimsical and memorable novel by Priyonkar Dasgupta. It is a bright and revelatory tale of growing up in a mysterious world, softened at the harder edges by the innocent lens of youth.
Readers who have forgotten the joys of childhood will be thrown back into an age of endless imagination, balanced by the challenges of growing up with a bit less to eat than you'd like, and a bit more stress than many children normally experience. India is a magnificent country, and Dasgupta does not skimp on the lavish, unforgettable descriptions of even the simplest moments of life in that vibrant country. The recollections are intensely vivid, as though he has a conduit directly to his childhood mind, despite possibly seeming foreign to many western readers.
Like many authors who attempt to capture the comprehensive and complex image of a city, Dasgupta has a deep respect for India's culture and its traditions. There is also a great deal of love between the main character and his friends, and the affection of these main characters is depicted beautifully in these pages. This is coupled, of course, with the conflicts and bickering that inevitably happen in groups of kids. To make the story even more rich and engaging, Dasgupta leans heavily on metaphor and allegory, which transforms the "petty" troubles of youth into serious issues; essentially, readers are exposed to the sincere perspective of children, where even small moments and events can have a monumental impact.
The endless adventures of youth, and the dynamics between boys of different ages, make for a fast-paced story, and challenges readers to muse on their own inner child, no matter how deeply it may be buried. Joy and Shomik are two of the most interesting and believable characters, teetering between childhood and adolescence, representing the huge changes that affect all the characters in the story. Missing boys, ghost hunts and even a bit of romance round out this coming-of-age tale, which plays out in unpredictable and amusing ways.
While the descriptions are rich and the plot is easy to follow, the writing itself could use significant improvement, namely in terms of grammar and sentence structure. At times, it seems like the author is trying to be too wordy, and occasionally misuses words, or makes poor choices to convey his meaning. A thorough edit from a native English speaker could help with the flow of the story, as the pace can be choppy at times, yet meandering at others. The dialogue between the characters also comes at a quick clip, just as children speak, but it does not come across as natural in many instances, so again, a quick edit for translation accuracy would be beneficial.
Overall, Dasgupta captures the essence of an important time in one's life and a beautiful setting, and populates it with unique characters. The protagonists are not written as a group of anonymous youths – each character is uniquely developed to stand out as an individual. However, without the glue of solid writing to tie it all together, the book is weaker than it could be.