★★★★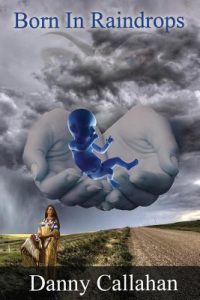 When writing a novel, there is a clear beginning, middle and end, and most authors have a vision of what that overall arc will be. However, poetry is an entirely different world, and curating a powerful collection with an underlying message or mood can be an incredible challenge. Within the pages of Born in Raindrops, Danny Callahan reveals his variable mind, diverse poetic styles and sensitivity to the plight of human nature.
The poems in this collection range hugely in their subject matter, touching on everything from sexual assault on college campuses and nostalgic reflections on past love to the origins of consciousness and city-based surrealism. However, the overall tone of these pieces is dark and somber. There are a few bright and optimistic poems in the book, but many of these are tongue-in-cheek, short and sweet, quickly moved past for more serious or hard-hitting subject matter. Most of the poems are free verse, with intentional rhyme taking a backseat to assonance, consonance and interline rhyme, showing Callahan's comfort with alternative or non-traditional forms of poetry.
At over 300 pages, this is on the larger side of most poetry collections, but the impressive assortment of issues that the poems address prevents the reading experience from becoming staid. Although the pieces are arranged alphabetically, there is a pleasant flow between each page, and plenty of variety in form and length. Some poems can be read through once and the meaning is instantly clear, while others are more esoteric and up for interpretation.
Free verse often lends itself to a more narrative style of poetry, and in some cases, it feels as though Callahan turns a paragraph of prose into a poem by removing a few unnecessary articles and prepositions. The clever manipulation of language stumbles at times, particularly in poems that address contemporary issues. The short explanations at the end of each poem are unexpected and unique, something that most poets would avoid, and at times, the insight can be helpful, but at others, it narrows the poet's intentions and doesn't allow the language to speak for itself. Readers end up mentally bending what they have just read to fit with the explanation provided by Callahan.
Take as a whole, this collection has excellent moments and weak ones; for example, the poet who wrote the heavy-handed, She fears being abandoned, she's ashamed, she is betrayed / She suffers in silence being sexually used and abused
/ She feels trapped in this nightmare
/ That once was the ideal American dream, seems to have a very different voice than the man who penned Beyond the vineyards /
Of Pinot Noir grapes
/ She dreams like me
/ Her visions strewn
/ With bitter demons.
The influence of poetic greats are obvious, from the lyrical style of Pablo Neruda and Allen Ginsberg to the brutal realism of Bukowski or simplicity of William Carlos Williams. Danny Callahan's voice doesn't cut through as clearly, making it difficult to label or classify him as a particular type of poet. That being said, Born in Raindrops is an ambitious collection with dozens of poems that will stop readers short, bring tears to their eyes, make them laugh aloud, nod their heads in agreement, and most importantly, leave them thinking long after the verse is done.
Links
Author Site
Amazon
Goodreads