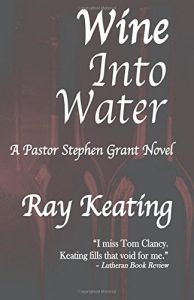 Wine Into Water by Ray Keating finds Pastor Stephen Grant navigating the treacherous world of counterfeit winemaking. A student of wine himself back in his CIA days, Grant is tasked with uncovering a counterfeit ring, which also involves dead restaurateurs, as well as members of his investigative team. Part thriller and part mystery, Wine into Water is full of action, suspense and an electric cast of characters – both villainous and heroic – that will satisfy fans of crime thrillers.
Though Wine into Water and the Stephen Grant series could most certainly be classified as Christian fiction, the book can also be enjoyed by those looking for a pure crime thriller. Though there are obvious religious underpinnings to the Pastor Stephen Grant novels, and the Biblical allusion in the title comes to the fore, Grant is also a former Navy Seal and CIA agent, and the emphasis is very much on criminal intrigue as well, giving the book impressively universal appeal.
The strongest element of the novel is how high Keating pushes the stakes – another murder could happen at any moment. The investigative team is also well fleshed out – Grant is by no means working this case alone – and we get to know Grant's CIA brethren. The novel has an intriguing array of subplots as well that by no means slows down the pace, but instead ups the ante on Grant's motivations. The book is action-packed, multi-layered, and believable, incorporating Grant's theological take on events, which raises the stakes even higher.
Links
Author Site
Author Blog
Facebook
Twitter
Amazon
Goodreads