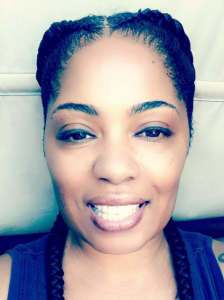 Tameka Mullins is a Detroit, Michigan native, poet, blogger and digital marketer who loves pop culture and traveling to exotic locations. Her writing has been highlighted on NPR and in countless women's periodicals and e-publications. She's worked at The Girl Scouts of the USA, WCBS Radio and Newsweek. Her short story, 'Empty Lens' is also being featured in the 'Welcome Home' YA anthology that is set for publication in September 2017. She currently lives in New York City.
Why did you choose to self-publish?
I like having control of the marketing direction, book cover creation and overall publishing experience.

What tools or companies did you use, and what experience did you have?
I used BookBaby to publish my e-book and CreateSpace for my paperback. Both experiences were seamless and I learned a lot about the publishing business and book distribution channels.
What did you learn on your journey as an author?
I could write another book based on my journey as an author and I am not even finished yet! One key takeaway is to enjoy the process of creating and writing. Writers should never let the business aspect of publishing overtake their creative passion for the written word. Without the art of words, their would be no business.
Tell us about your book.
12 Hours of Daylight – A Jason Jules Novella is a sexy story about a young single dad with a spicy job who has to make some hard decisions.
Would you self-publish again?
Yes, most definitely. Now that I've done it once, I can sharpen a few things with a next book launch.

What do you think are the main pitfalls for indie writers?
Some indie authors are so excited to release their work to the public that they may not pay attention to important details like editing and fact checking. I think as long as the story is good and you show respect for the craft, you can and will most certainly build an audience. Don't rush.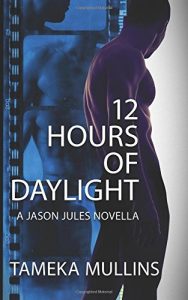 As a writer, what is your schedule? How do you get the job done?
I work from home so I have a lot of flexibility. I do prefer to write in the early morning hours between 2 am – 6 am. My words seem to flow nicely during that time period.

What tips can you give other authors looking to self-publish?
Don't rush the writing process. Truly immerse yourself in it and enjoy it. Then, do your research when it comes to editors, book cover designers and marketing professionals. Choose the people who not only fit into your budget, but who also have an interest in your work and who you are as an author. I find that those who actually like your project will provide the best services and even help be an evangelist for your work afterward it's completed.

What was your steepest learning curve during the publishing process?
Figuring out which companies to use to for distribution was a little challenging.
Why did you want to write a book?
I have always been a writer since I was a child. I wrote poems and was the editor of my high school paper and yearbook. It was a foregone conclusion that I'd want to write books.
Tell us about the genre you wrote in, and why you chose to write this sort of book.
My book is a contemporary romance with some touches of erotica. Honestly, I never thought I would write this kind of book. I am more into multicultural and general popular fiction and mysteries, but I created the character first and then the story came to me later so I went with it. It was more important that I stay true to the character I was building then stick to genres I was more comfortable with.
Who are your biggest writing inspirations and why?
Maya Angelou, Charles Bukowski, Donald Goines and Gillian Flynn. I love Maya for her poetic brilliance, beauty and linguistic depth and that voice. The others inspire me because they can take dark things and make them sing.
What are your plans now your book is published?
To get it in front of as many people as possible and to write more books.

How do you deal with writer's block?
I write my way out of it.
What have you learned from this experience?
That it's an amazing time to be a word professional.
How do your friends and family get involved with your writing? What do they think of your book?
It's been a joy to have my friends and family support my writing by purchasing it and telling others about it. The reviews are just now coming in and those who have read it have said that they liked it. I'm looking forward to more of their feedback.
Why did you write about this particular subject?
I have always been fascinated with the reasons why people are drawn to or choose the work they do.
What authors do you like to read and why?
I love authors who can make me laugh, scare the crap out of me, press me to think deeper, take me on lyrical journeys, entice me and inspire me perfect my craft.
Links
Author Site
Facebook
Twitter
Pinterest
Youtube
Amazon
Goodreads