★★★★½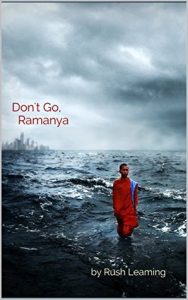 Transporting readers to another world, a different time, or a new way of looking at things is the great task of an author, and in Don't Go, Ramanya, author Rush Leaming does a marvelous job of doing all three. Packed with vivid descriptions and unique, unforgettable characters, this novel grabs readers within the first few pages.
The story centers on three men, Father Bob, Michael Shaw and Ramanya, an ex-rebel soldier from Burma, as they serendipitously join forces and attempt to smuggle Ramanya back into his home country. This simple premise goes far deeper, as Ramanya is also known as the Black Fox, a bomb maker from Burma who could be tried and killed for treason if he returns to his native land. However, the mysterious appearance of a stranger, Thura, carrying a message from Ramanya's supposedly dead family, drags him away from his new, peaceful life as a Buddhist ex-pat in Thailand, which is where the story begins.
Although the entire book spans only a few days, the amount of detail and narrative wealth in the pages is a marvel; readers can smell the humid air, hear the bustle and clamor of the city scenes, and feel the tension building in each chapter, both on a personal and national level. Thoughtful, sacred moments of reflection by Ramanya are juxtaposed with the rough and tumble prose used to describe Shaw, the seemingly directionless American ex-pat. Father Bob is an eccentric and rebellious priest, constantly getting in trouble for overstepping his bounds and duties, and is never afraid to go out of his way to help those in need, even when it comes at risk to his own life.
It takes about half the book before the three focal characters join forces, but the patient progression of the plot builds a strong, engaging foundation for the political and cultural setting, not to mention a clear understanding of who these characters are and what they individually want. Everyone has their own story, and their own goals, but they tangle wonderfully. Instead of a forced reason for this trio to come together, Leaming wants this novel to be justified and immersive, trusting his writing to carry readers forward, making the reader eager to see how each of these perfectly crafted pieces fit together.
As the story unfolds, we learn even more about these fascinating men – the horrors of their past, their unexpected commonalities, and their present crises – making it impossible not to invest in the book. True, human moments are difficult to capture in literature, despite every author's attempt to achieve them, but Leaming seems to do so with ease, lending a sincerity to the writing that is both rare and valuable.
The level of draftsmanship is obvious from the very beginning, as the author juggles settings, characters, motivations, and subplots with ease, and the reading experience is a pleasure. Few, if any, grammatical errors mar these pages, and the variety of language and syntax shows Leaming to be an avid reader and master of his craft. The main weakness in the entire book is the cover's typography.
This is one of those exceptional books that readers will intentionally put down, so as to not reach the end too quickly. The captivating story, perfect pace, significant research and highly relatable characters make this novel an enthralling emotional adventure.

Links
Author Site
Facebook
Amazon
Goodreads