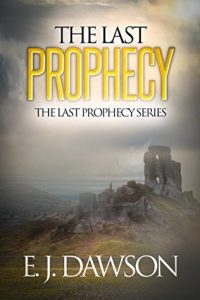 A stormy night brings a shadowy figure to Professor Nicholas Holloran's office, and with her comes an offer he cannot refuse. Blackmailed into accompanying the beautiful Captain Salisbury on an expedition, this unlikely pair and their even more unlikely crew set off after a legend even more old and dead than the Mostadic monk who lead them there: Shaifalway – the Well of Youth. Unfathomable adventures across the fathoms continue in the second novel of The Last Prophecy series.
Well-drawn and entertaining, The Last Prophecy is a steampunk adventure novella that takes  the dignified intrigue and high-flying exploits that come with many steampunk settings, while also adding a thoughtful, immersive writing style to the mix. Dawson has carved out an intriguing niche: Indiana Jones meets modern Victorian Gothic. With protagonist Nick comes a new perspective on this inventive series and really puts a shot in the arm of the cast's dynamic.
The Last Prophecy promises to give readers "more questions than answers" in this installment. On its own, the book isn't too difficult to follow as Dawson fills in the details, though it would benefit from reading the first book in the series. As a sequel, it will satisfy fans of the first book, as well as make converts of new readers.