★★★★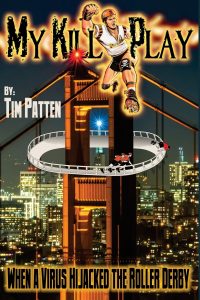 Roller derby, in its modern form, has been a cult phenomenon across the world. A thrilling and dangerous sport, it has evolved from childhood pastime to a spectacular arena of courage and cunning on-wheels. My Kill Play: When A Virus Hijacked the Roller Derby is a personal account of author Tim Patten's experiences with the sport, as childhood hobbyist to professional, and the way his life and those around him changed throughout the late 20th Century during one of the most infamous first-world medical crises of the past forty years.
My Kill Play joins Patten's previous publication, Roller Babes: 1950s Women of Roller Derby (an account of the take-no-quarter culture of women in the sport during the mid-20th Century) in explicating Patten's life-long love of roller derby and its role in his local culture. More than this, My Kill Play is a memoir of Patten's personal history, and discusses his career and accomplishments in the sport. It also details his struggles and revelations as a gay man, with an exploration of the AIDS crisis and the community's struggles in San Francisco.
Patten has two other books relating not to roller derby but to male empowerment, in titles including Why I Cheat: Men, Marriage, and Cheating, and MGTOW Building Wealth and Power: For Single Men Only. Patten proves to have many spheres of experience, and many of them seem to converge in this book, resulting in a surprisingly engaging and fascinating read for a subject that may not be initially enthralling to most (at least not including its semi-underground die-hard followers.) The descriptions of his experiences as a gay man and his rich knowledge of roller derby are demonstrably earnest, and exceptional. Most of all, the book will be of interest, and even inspiration, to a broad swath of readers. Patten has managed to write a niche book with some real universal appeal.
A definite mark against the book is its loud and tonally-unsettled cover, which puts a sort of 80s retro-futuristic cyberpunk look over the top of a San Francisco skyline. Conceptually, this works well in hinting toward the nostalgic exuberance that Patten typifies and plays with from the era. From a practical standpoint, it's hard to really tell what the book is about. The use of distinct, cartoon figures implies something toward fiction rather than autobiography. The cover is unfortunately a little off-putting and deceptive of what a treasure of a read the book actually is.
My Kill Play is a passionate work, and a page-turning one at that. It's a hard-hitting account of one man's life, strung together by his enduring love of a sport often left by the wayside in many people's minds. It's a story of personal discovery and the tested resolve of a man living in an overlap of two major communities. Sometimes challenging, even frightening, My Kill Play is a dramatic historical memoir and a testament to the power that unflinching love, be it of of a sport, a group, or an individual, can have on a person, no matter the odds.
Links
Facebook
Amazon
Goodreads