★★★★★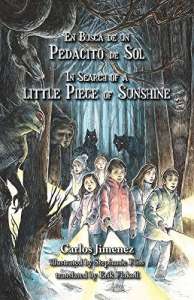 In Search of A Little Piece of Sunshine by Nicaraguan writer Carlos Jimenez is a beautiful and original middle grade novel for readers who enjoy fantasy and nature. Jimenez is a new talent ready to burst onto the US market with this, his first English language release.
As a band of brave children search for "a little piece of sunshine" to save the freezing cities in North America, namely NYC, they must travel into the forests and face many strange and mythical creatures in their environmental quest. An allegory set in the time of Obama, this book is really something special in its presentation and language, and will remind those familiar with Enid Blyton of the Famous Five books, in which a group of slightly oddball kids go on missions to discovery.
The way that Jimenez has represented the young adventurers and the animals will really appeal to seasoned middle grade readers, or those who are embarking on reading by themselves for the first time. Dark and slightly mysterious at times, the book does have faintly imposing elements that may send some more sensitive or younger children's minds into a spin, but the great majority of readers will find these parts of the story immensely enjoyable and exciting. It's important to present the world's challenging elements to children as they grow, and Jimenez has used well-planned devices to do just that.
While the standard layout for a bilingual book is one page in English and one page in Spanish so that you can read both languages and compare, this book has split the entire story into two books, one after the other to give room for the wonderful illustrations. In this way it's not really useful for language learning, because it's difficult to flick back to the other language throughout the book. However, the intention here seems to be to present the original work as an addendum. For those who can read Spanish, the book's original format is really poetic, but to the credit of the translator, he has captured this in the English version.
The book also educates children in the geography and geology of the "heart of America," Nicaragua. This is something that makes the story really unique and interesting educational tool, as it can help young people understand American cultures and people south of the border. Given the current discussion and controversy about immigration, the timing of this book could not be better in that regard.
In Search of A Little Piece of Sunshine is a magical book with a fantastic Maurice Sendak-like universe, albeit for an older reader, and children will enjoy the sense of adventure and the diverse characters of the children in the tale. It's an original and wild journey with touches of Central American culture and myth, which makes this a stand-out book that deserves recognition.
Not often does an independent middle grade book hit the market perfectly, but Jimenez has put together this release with an obvious talent and great understanding and experience of a child's reading imagination. Recommended.