★★★★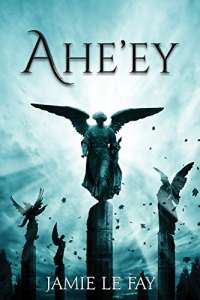 Morgan Lua, founder of the Hope Foundation for Empowerment of Girls is strong and imaginative, with many ideas on what it means to be a young woman in her world. Gabriel Warren is an angel of sorts, a CIA agent assigned to keep her safe. He's amazingly gorgeous, and Morgan is quite obsessed, even if this absolutely goes against everything she likes to believe about herself as a feminist in modern-day USA, as she's faced with a group of bigots in the form of political zealots, The Men's Rights Defense.
Ahe'ey by Jamie Le Fay is a compelling and creative work of paranormal romance. Characters are rounded and flawed; nobody "has it all."  Importantly, nobody responds perfectly to difficult situations, and Le Fey takes her characters to places seldom seen in fantasy fiction that many readers will find empowering and prescient.
In the current political climate Jamie Le Fay has produced a timely work aimed at discussing women's issues in a fictional framework, communicating many opinions and ideas through her cast. In doing so, however, some conservative readers may not enjoy much of what Le Fay has to say about the "buffoon" in charge. In places, the book delves into a type of anti-Republican comment that could be insulting to a fair number of readers, even in fictional rhetoric.
While it's of course fine to take a political slant in fiction, it does narrow her readership for this specific genre, who may be left feeling rather alienated. At the same time, those who are on the book's political spectrum will likely find this take-down cathartic and enjoyable, even inspiring. All this is to say that Ahe'ey is a fairly polarizing book. But then if one is able to garner a strong reaction from readers, it could be said to be a success. As an example of feminist fantasy fiction, you won't find much better than this.
The world-building in this novel is impressive, but there is so much to establish that it is a bit slow moving to start – the story jumps across time and place for much of the first act, so the book seems like it has many opening scenes before settling down to put the pieces together. Granted, there is much to establish, and Le Fay shows off an impressive imagination, but the scope may be broad to a fault, which can leave readers a little weary. It requires readers to keep quite a bit of information in their heads as they read, so as not to forget what just happened in another time period when they are pulled away to another.
Overall, this is a small element of an otherwise enjoyable read. It's an impressively thought-out story, with many original touches and a fairy-like romance that will deeply satisfy readers of the genre. Additionally, the story has no qualms about entering the darker realms of the supernatural. Using Avalonian and Enochian names, the novel does take derivative themes from these legends, but Le Fey has incorporated the familiar with a provocative storyline and complex characters.
Ahe'ey will most certainly appeal to fantasy readers interested in a strong female protagonist, dark adventure, angels, and fairies. Le Fey has created a captivating world of paranormal fantasy, and readers will become easily immersed in Morgan and Gabriel's story.
This book contains scenes alluding to rape and violence that some may find disturbing.
Links
Author Site
Facebook
Twitter
Amazon
Barnes & Noble
Kobo
Goodreads