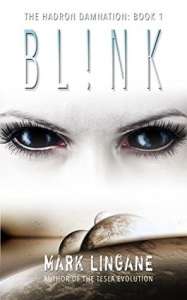 The human race has changed – a shell of its former self, yet something more as well. Their war against the invaders is now fought with a new weapon: children. These children are inheritors of the ability to rip through time and space itself, and are able to relay their glimpses beyond in the moments before they are lost. That is, until one child returns, alive, and brings back something that will change the course of humanity's survivors forever…
Following on from the contemporary-based "Book 0" prequel, Fault/lines, BL!NK takes place in a post-apocalyptic version of our world – four-hundred years after a catastrophic series of events that decimated Earth. BL!NK does not rely on any part of the prequel, however, and even has a switch in tone.
A dark sci-fi novel, BL!NK is a change of pace for Lingane, who often uses a little more humor in his work. BL!NK examines a darker side of a near-post human existence in a ravaged world. It is successful in its brooding and languid tone, punctuated by small, shocking revelations throughout that maintain a steady, rolling pace. While definitely, unmistakably Lingane, BL!NK is something new and refreshing from the author, and a thoughtful beginning of a new series.
Links
Author Site
Twitter
Amazon
Barnes & Noble
Kobo
Goodreads