★★★★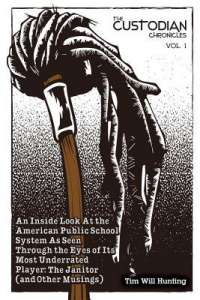 Seeing the world through a new pair of eyes is what reading is all about, but when turning the pages of the Custodian Chronicles, Vol. 1 by Tim Hunting, you might want to wear safety goggles. This custodian, writer, philosopher and hilarious observer of the human condition gives readers a rare peek into the world of education by walking a mile in his shoes – those of a custodian at an elementary school.
Both laugh-out-loud funny at times and worryingly serious at others, this pen-wielding janitor has a lifetime of opinions and insights into the educational system and is more than happy to share – after all, the subtitle of the book is An Inside Look at the American Public School System as Seen Through the Eyes of Its Most Underrated Player: The Janitor (and Other Musings).
This isn't a book about scraping gum off the underside of the bleachers or scrubbing filthy toilets (although those do make an appearance). Instead, it is a poignant diatribe of an outsider looking in. He is neither a teacher nor a student, yet he is constantly learning and instructing others. The custodian is a unique figure within a school setting, working at a distance but intimately connected to every room, desk and doorway. This also makes him an excellent storyteller.
Hunting's musings pinball from the mediocre quality of modern education to existential musings on the value of life. Each chapter is imbued with his unwavering sense of humor and confident voice. Being a passive observer for so many years seems to have built up his thoughts like a dam, and they flood out over these pages with humor and wisdom. After spending years watching children stuff themselves with unhealthy food, develop anti-social behaviors, and generally lean towards chaos instead of progress, Hunting doesn't hold back in his judgments.
To the book's credit, it isn't a scathing denouncement of schools or the hard work that teachers put in, but it is a series of brutal truths about modern education. Peppered in with his criticisms are genuine compliments and acknowledgements of the great people with whom he has worked, and praise for talented teachers is everywhere in the book. However, there is no denying that certain systems within education are broken, and Hunting isn't afraid to call them out, including discriminatory practices based on race, wealth and intellect. So the book will be instructive for parents and educators alike.
Some of the ranting and postulating goes a bit far, and the author's use of exaggeration and overly informal language can weaken his arguments. A thorough edit of this book is definitely called for, as there are numerous grammatical and spelling mistakes, and certain sections could also be polished or improved to bolster his argument. Some of the sentiments are repetitive, and the writing can be overly tangential at times.
Overall, the chapters are well constructed and the prose is clear and engaging. Most of all, the passion at the core of this book is undeniable. Hunting is a man who obviously cares about children, and thinks deeply about what the next generation will need to succeed. This book is his attempt to share what he has learned, and perhaps inspire others to continue fighting for the sacred nature of our schools, and on balance it's effective.
From career educators and parents with school-age children to brand new teachers and education legislators, The Custodian Chronicles, Vol. 1 is an off-the-cuff piece of brilliance by someone with a unique, inside-scoop perspective.
Links
Facebook
Soundcloud
Amazon
Barnes & Noble
Goodreads