★★★★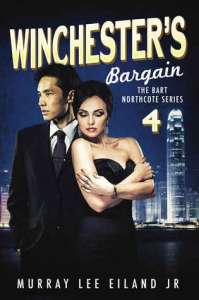 Taking on the world's financial elite – and threatening the one thing they hold dearest in the world – is no small task, but Bart Northcote never backs down from a challenge. In Winchester's Bargain, the fourth installment in this PI series by Murray Lee Eiland Jr., the stakes for Northcote and his investigative team have never been higher, and the writing itself has never been better.
A mysterious man named Winchester Lee approaches Bart Northcote with some disturbing news: the New York Stock Exchange is being controlled by a shadowy Chinese cabal with trillions of dollars at their disposal and the ability to send the world into economic chaos. Given the need for a small investigative team that flies under the radar, Lee chooses Bart, the off-kilter private-eye, to infiltrate and undermine this global operation. It seems unrealistic, and far beyond the powers of an average PI and his ragtag team of associates, but with a small fortune as a down payment, they eagerly take on the case.
Most of the action in this novel happens in California, but the true threat always seems to be looming from China, and the scenes in Hong Kong are more thrilling and relevant to the plot progression. Winchester Lee is in focus almost as much as Northcote, which is slightly different than Eiland Jr.'s other novels. This is also true of Moons, Salome, Wanda and the newcomer Jade, who provide an ideal support structure for Northcote, and act as sexy, clever foils to make him look better, and be more successful in his investigation.
As the secret behind stock manipulation becomes clear, the danger from the Golden Dragon cabal grows even greater, and some of the investigators may be more closely linked to this Far East organization than they ever realized. When their lives are bugged, observed and physically threatened, the team needs to re-evaluate their role in hunting down this conspiracy, but Northcote is never one to give up, as evidenced by his other tight squeezes in past books. The shocking twist comes about three quarters of the way into this winding tale, and while it was subtly hinted at throughout the prose, it still comes as a worthy surprise, and leads the way into a satisfying and thrilling end to the book.
The writing had a number of grammatical and proofreading errors that could have been cleared up by a simple, superficial edit, but generally, Eiland Jr. has a firm grasp on style and substance. His level of research is thorough, without ever boring the reader with backstory, and the dedication to character development and depth is improving in every subsequent Northcote mystery. As in the other Northcote books, the "meta" level of Northcote reading and writing books about private eyes continues to be an amusing, tongue-in-cheek aspect of the series.
There isn't perfect "closure" at the end of the book, but with crisp capital in hand and a new story to write, there is no doubt that there will be more Northcote novels to look forward to. This latest installment confirms Bart Northcote as a reliably fun and entertaining PI series.
Links
Author Site
Facebook
Amazon
Goodreads