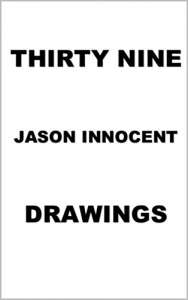 39 Drawings is a collection of early artwork by famed graffiti artist Jason Innocent. The artist has made his name with sketchbook-style drawings throughout the streets of New York City, and these thirty-nine drawings collect ideas and images he's known for in one place.
The drawings are directly reminiscent of his "live" sketches, and so offer an inside glimpse into his creative process, as well as how he's developed as an artist. Those who are familiar with his work will see ideas that have permeated his street art – race, pop culture, class, and seemingly random thoughts – that all coelesce into a larger narrative.
Something does get lost in the translation from street to sketchbook, as part of the power of street art is the canvas on which it's displayed. The same ideas can be found in these works, but the sketchbook quality of his street art is necessitated by having to create things quickly, which is part of their charm and power. One might expect that with more time these drawings would be more fully-realized.
However, if you're a fan of Innocent's work, this is solid compendium reflecting his many styles and subjects. If you're new to his work, the book is inspiring specifically for its looseness. Innocent may have a somewhat haphazard style, but there's a fearlessness to his work that gives it power in any medium.