★★★★½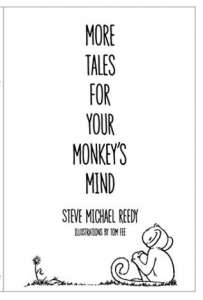 The mind is a powerful tool and nowhere is it more evident than in More Tales for Your Monkey's Mind, a highly-imaginative series of stories for young children by Steve Michael Reedy, with illustrations by Tom Fee.
With irresistible titles such as "Chef Tubblygras and Her Amazing Purple Hippos," "James and the Clock of Torsion Springs" and "The Nuts in Nuttersville," each story in Reedy's book is chock full of entertaining characters, thanks to Reedy's quirky characterization and unique name choices. Children will love names like Chef Tubblygras, Tilly Triller, and Cropper Roo, artful tongue-twisters in their own right, all of who live in magical places so different from our own.
There are a number of intriguing themes explored in each of these whimsical stories: when Mother Nature causes distress, suffering or tension, her sister, the Mother of Invention is called in; time is just a fantasy – remember that and you'll be free; what's real and what's really a dream? There's a refreshing maturity to Reedy's stories. He's not talking down to children, or underestimating their powers of comprehension, yet the stories never lose their core accessibility and playfulness.
Additionally, within these clever themes are also valuable life lessons on tardiness, the importance of having purpose, and many others, which are sure to resonate with adults as well. Beyond Chef Tubblygras and her purple hippos, there's a somber warning about the delicate balance between the planet we love and the inventions we need that may ultimately destroy it. Reedy's stories also underscore that it's important not to lose our imagination, regardless of our age.
Tom Fee's illustrations are black and white, somewhat stark in their contrast at times, but nevertheless visually alluring. The absence of color in the drawings belies the painstaking detail devoted to each illustration, and the fact that each one captures the essence of the story being told – a mood that changes from one drawing to the next. Each illustration is detailed enough for participation by smaller fingers to trace the curves and swells of each picture, and search for the tinier details, such as counting the number of items on a shelf, or identifying the faces depicted on a barrel.
At times, the tone of the prose is aimed at a much younger audience, yet with the length of a middle grade book, putting it somewhat in a no man's land age-wise. When coupled with the illustrations, which are plenty expressive, but still subtle given they're in black and white, the book does not always have a clear audience in mind. When the book is hitting on all cylinders, it is exquisitely expressed and illustrated, but there are a few moments that could use better targeting.
Overall, More Tales for Your Monkey's Mind will have kids laughing and intrigued by these uniquely imaginative stories. Reedy has an inspiring vision for this work, and the obvious passion and talent put into this book result in an electric work of children's fiction, which can inspire kids to read, or even be more creative themselves.
Links
Author Site
Facebook
Twitter
Amazon
Goodreads