★★★★★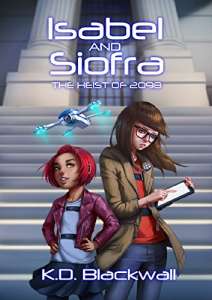 For an adventurous time travel tale for the middle-grade reader, look no further than Isabel and Siofra: The Heist of 2098, written by K.D. Blackwall with illustrations by S. Red Amparo and Oshred Art.
It's the year 2115 and the first day of the new school year. Isabel (Izzy) Akilina and Siofra (CeCe) O'Malley meet on the hoverbus on their first day as fifth graders at Luna Elementary, located in Luna City on the moon. They're both in Mr. Saladin's science class, and during their first day in school both girls discover two important things. The first is that they both love adventure and mystery – so much so that they're quickly dubbed the "Mystery Sisters" by their classmates – and the second is that their school contains a top secret laboratory that is strictly off limits to all students.
Unfortunately, it's their shared love of adventure and mystery that makes the secret laboratory irresistible to the two girls, leading to their activation of a time ship that takes them back in time to 2098, and they need to make their way back without destroying the future…
Writing sci-fi for middle-grade readers is no easy task. The story must be creative enough to maintain a reader's interest while the author's alternate universe must stay relatively within the realm of believability, and never be too complex for younger readers. Blackwall rises to the task admirably in Isabel and Siofra.
The unique universe Blackwall has created has a litany of interesting gadgets like hoverbuses and hoverchairs, electronic desks (EDs) that function as a large tablet, holographic images that are projected around the classroom, and computers that can make desks and chairs disappear into the floor, seemingly in the blink of an eye. The book offers plenty to fascinate young readers but isn't so "out there" that they can't relate to the author's concepts.
What makes the book most effective are the title characters themselves. Russian Izzy is quirky, spontaneous, and utterly likeable, while Irish CeCe is just as quirky, frequently found channeling the ghost of her pirate ancestor. One acts as a foil for the other and their sense of adventure and energy almost leap off the page, thanks to the greyscale illustrations throughout the book that perfectly capture each girl's quirky characteristics. One would be remiss in not mentioning the character of Mr. Saladin, who epitomizes the ideal science teacher in that he makes learning about gravity and mass actually fun.
What Isabel and Siofra also has going for it is its sense of diversification which is so relevant in today's society, and will no doubt be so in the future. Many of the students at Luna Elementary not only come from different backgrounds but also from different countries on Earth such as France and Germany. The concept of the diversified family unit is also underscored with one girl having two mothers while the other has none, not to mention the "home holograms" that act as surrogate parents for children living alone.
With great characterization, plenty of action and adventure, and a fun time travel premise, Isabel and Siofra: The Heist of 2098 will have young readers eagerly anticipating the next book in the series.
Links
Twitter
Amazon
Barnes & Noble
Goodreads