★★★★★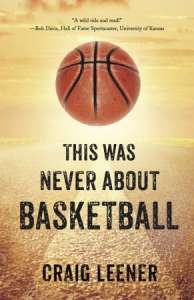 Coming of age and basketball combine in Craig Leener's thoroughly entertaining YA novel, This Was Never About Basketball.
Seventeen-year-old Ezekiel "Zeke" Archer lives and breathes basketball and has managed to land a full basketball scholarship to the University of Kansas…until an unsportsmanlike punch and a subsequent brawl gets Zeke and his two best friends, Curtis and Stretch, unceremoniously expelled and finishing high school at Ernest T. McDerney Continuation School, a purgatory for at-risk high school kids.
Worst of all, Zeke's scholarship is withdrawn and his life is on a downhill slide – until he learns of a basketball tournament being sponsored by the local community college, with the winners to compete in the western regional championship at the University of Kansas, of all places. Suddenly, things begin looking up for Zeke until Lawrence, an autistic 14-year-old math savant, gravely informs him that the 7th Dimension, an inter-dimensional energy being allegedly the force behind the creation of basketball on Earth, is about to take basketball away for good, and it's all Zeke's fault…
What makes This Was Never About Basketball work so well is the strength of Zeke's voice – as is so crucially important in a young adult novel. Zeke is a compellingly strong character who's not without his faults, yet you're always rooting for him to succeed. Certainly, Zeke is preternaturally gifted at basketball, but what makes him so likeable is that he has plenty of insecurities when it comes to the opposite sex, and he's a nice guy to boot, befriending the likes of Lawrence, the McDerney social misfit and NASA astronaut wannabe.
Zeke's best friends, Curtis and Stretch, are typical teenage boys, but really loyal friends and the three are willing to go that extra mile for each other when push comes to shove, so the novel becomes a multi-layered story about the strength of friendship, acceptance of others, and striving for success – all crucially important for a young adult book, yet without ever becoming preachy. The novel never becomes too message-laden because it has a core reality – the story isn't a fantasy about disparate people getting along, as Zeke has such an authentic voice.
What especially separates this book from other young adult fiction is that although it's a coming of age story with a teenage protagonist, it's not overly hormone driven. Zeke may agonize over his growing feelings for Rebecca, but more than that, the reader sees a real emotional growth in him as the story progresses, thanks in large part to his developing friendship with Lawrence as they embark on their trek across the U.S. Zeke's relationships with people are multi-faceted, as are his views about life.
While This Was Never About Basketball is very much about basketball, and will most certainly appeal to basketball fans, it is really about coming to terms with what's important in one's life, so it can appeal to a wide gamut of readers. All combined – a stellar cast of characters and a great story – This Was Never About Basketball is a remarkable young adult novel that really is about so much more than basketball.
Links
Author Site
Facebook
Twitter
Amazon
Goodreads